Tuesday, 28 July 2015
And the beat goes on; biggest Friday/Saturday
Java, Bali, Lombok, Sumbawa forecast by Craig Brokensha (issued Tuesday 28th July)
Best Days: Wednesday morning, Friday through Tuesday next week
This week and next week (Jul 29 – Aug 7)
This morning has started slow, but a good new S/SW groundswell should show across exposed breaks this afternoon, with infrequent but good 4-6ft sets.
This swell should ease back through tomorrow from 3-5ft as stronger E/SE trades develop (light and variable early).
A low point in swell activity is due Thursday and it's probably worth giving a miss.
Our stronger but inconsistent pulse of S/SW groundswell due for Friday and Saturday is still on track, generated by a broad and strong polar frontal progression around and east of the Heard Island region over the past few days.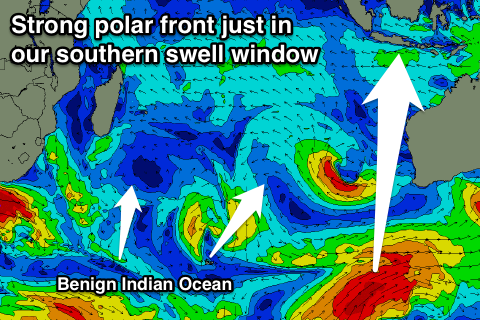 This swell should build to an inconsistent but strong 6ft+ across exposed breaks Friday afternoon, and then ease slowly from a similar size Saturday morning.
The easing trend into Sunday and Monday will be slowed by a couple of reinforcing pulses of smaller S/SW swell and the trades should ease back a touch from Saturday.
Into Tuesday a rare S'ly groundswell is due, and this will fail to make much of an impact east of Bali.
This will be generated by a strong but late forming polar front to the south-southwest of WA through the end of the week, generating a fetch of severe-gale S/SW winds.
The S'ly swell should peak through Tuesday afternoon to 3-5ft across exposed breaks, before fading into Wednesday.
Longer term, besides another acute and smaller S'ly groundswell for Thursday afternoon, there's nothing significant on the cards at all still.
All the major frontal activity will be aimed into south-eastern Australia, but hopefully this all shifts soon.
16 day Bali Forecast Graph
16 day East Java Forecast Graph
16 day Sumbawa Forecast Graph