Thursday, 14 May 2015
Slower period continues, fun swells next week with weakening trades
Java, Bali, Lombok, Sumbawa forecast by Craig Brokensha (issued Thursday 14th May)
Best Days: Friday, Sunday afternoon onwards
This week and next week (May 15 - 22)
A fun and inconsistent pulse of S/SW groundswell should of filled in today, with it due to ease back from an inconsistent 3-5ft across exposed breaks tomorrow, down further into Saturday to 3ft+.
Fresh to strong trades will continue through tomorrow before easing slightly Saturday and further into Sunday and next week.
Our good pulses of groundswell due from Sunday through next week are still on track, the first being the least consistent and from the SW.
This should build to an infrequent 5-6ft later Sunday across exposed breaks, persist through Monday followed by a secondary similar S/SW pulse Tuesday.
A drop in size is expected into Wednesday ahead of two long-range S/SW groundswells through Thursday afternoon and Friday.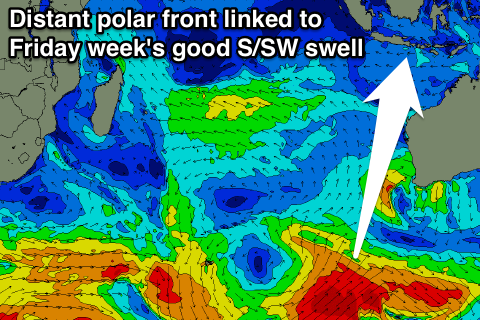 The source of these swells will be a couple of distant polar fronts skirting around the south of a blocking high in the Heard Island region.
This is not ideal and the swells will be really inconsistent, building to 4-5ft at exposed breaks later Thursday ahead of a better increase Friday to 5-6ft+. The trades are due to really weaken through next week and even become more variable the following weekend.
A drop in size is then due into the weekend with a possible larger but very inconsistent S/SW groundswell for Sunday afternoon and Monday week. Longer term some better S/SW groundswell is still on the cards for later in the month, but we'll discuss this in more detail on Tuesday.
16 day Bali Forecast Graph
16 day East Java Forecast Graph
16 day Sumbawa Forecast Graph