Tuesday, 28 April 2015
Slow period, with better swell on the weekend, large next Wednesday
Java, Bali, Lombok, Sumbawa forecast by Craig Brokensha (issued Tuesday 28th April)
Best Days: Exposed breaks from Friday through Monday, most spots from Tuesday afternoon
This week and next week (Apr 29 – May 8)
Saturday's good pulse of inconsistent S/SW groundswell has eased back gradually over the last few days with smaller surf seen into this morning coming in at an inconsistent 3ft to occasionally 4ft at exposed breaks across the region.
We'll see the surf continue to ease into this afternoon and further through tomorrow, bottoming out into the afternoon and Thursday morning.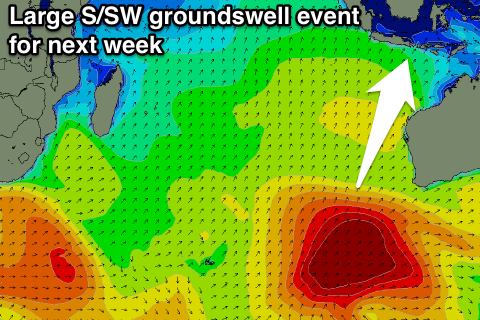 Winds will remain favourable for swell magnets with light offshore NW breezes each morning, tending variable into the afternoon with possible weak sea breezes.
From Friday we'll start to see a touch more swell activity, with some fun and moderate sized S/SW groundswell pulses due ahead of a larger groundswell mid next week.
A slight kick in size from a very inconsistent SW groundswell is due through Friday, building to an infrequent 3-5ft across exposed breaks.
A better S/SW groundwell is then due Saturday ahead of a secondary pulse later Sunday/Monday morning. These S/SW groundswell pulses are being generated by a couple of small frontal systems currently developing west-southwest of WA.
An initial tight but intense low should generate an inconsistent S/SW groundswell for Saturday, coming in at 4-5ft+ across exposed breaks before easing a touch back to 4-5ft Sunday morning.
A secondary broader and stronger polar front should generate a slightly better S/SW groundswell for late in the day Sunday, kicking back to 4-5ft+ before peaking early Monday to 4-6ft across exposed breaks.
This swell should then drop later in the day and further back to 3-5ft Tuesday morning.
Winds are expected to remain favourable for the most part with light variable breezes (tending offshore each morning with possible weak sea breezes).
Of greater importance is a strong and large S/SW groundswell due to build through Tuesday afternoon, peaking Wednesday morning across Eastern Indonesia.
This swell will be generated by a vigorous polar frontal system firing up in the Heard Island region tomorrow, projecting a fetch of gale to severe-gale SW winds up towards WA through the rest of the week, with a secondary intensification over the weekend.
This should produce a pro-longed large S/SW groundswell event, with the initial stages being quite inconsistent, improving into the second phase.
The swell is due to arrive through Tuesday morning and then build through the afternoon, reaching 6ft to occasionally 8ft across exposed breaks by dark and then peaking Wednesday to 8-10ft+.
A slow drop in size is then due through Thursday from 6-8ft+, further down into the end of the week.
The great thing about this swell is that we'll see the E/SE trades kick in as it arrives on Tuesday and persist into the end of the week, favouring the name reefs. Each morning though should see a period of lighter variable winds opening up more exposed locations. More on this Thursday though.
16 day Bali Forecast Graph
16 day East Java Forecast Graph
16 day Sumbawa Forecast Graph