Thursday, 16 April 2015
Great run of swell ahead
Java, Bali, Lombok, Sumbawa forecast by Craig Brokensha (issued 16th April)
Best Days: Every day over the coming period
This weekend and next week (Apr 17 - 24)
Today will be the smallest day for at least a week with a series of strong S/SW groundswell pulses due from tomorrow through the weekend and next week.
The first large pulse is due tomorrow, with it impacting Western Australia yesterday and due to pulsr strongly through the day, reaching 5-6ft across exposed breaks with the odd 8ft bomb into the late afternoon/evening.
The swell should hold a similar size-range into Saturday morning before easing late afternoon ahead of the second strong pulse of S/SW groundswell due Sunday.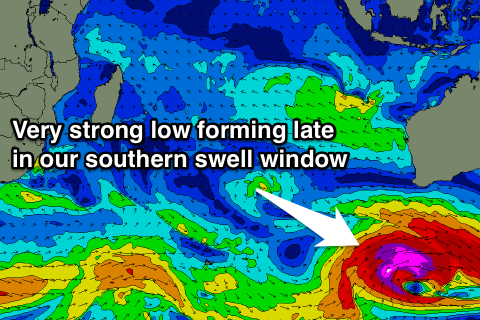 This swell was generated by a secondary polar low firing up to the south-west of WA earlier this week, with exposed breaks due to pulse back to an infrequent 6ft to occasionally 8ft.
A slow drop in size is due through the afternoon and further into Monday from 5-6ft, down to 3-5ft late in the day.
The final deep and powerful low falling under the influence of the Long Wave Trough, will so the south-west of WA this evening, with a fetch of storm-force SW winds being generated right on the edge of our southern swell window.
An acute and inconsistent S/SW groundswell will result, peaking Tuesday morning to an infrequent 6ft to possibly 8ft at swell magnets. The swell should drop through the day and then back off further through Wednesday and become small into Thursday.
Conditions over the coming period will be good and favourable each morning with variable breezes for the most part and possible sea breezes into the afternoon.
Longer term, we should see another good S/SW groundswell event for the end of next week and weekend, generated by a flurry of strong polar frontal activity in the Heard Island region this weekend.
We're probably looking at a swell in the 6-8ft+ range but we'll have a closer look at this on Tuesday.
16 day Bali Forecast Graph
16 day East Java Forecast Graph
16 day Sumbawa Forecast Graph