Thursday, 18 September 2014
Active outlook continues into the end of the month
Java, Bali, Lombok, Sumbawa forecast by Craig Brokensha (issued Thu 18th Sep)
Best Days: Every day over the coming period
Friday and the weekend (Sep 19 - 21)
This morning's strong but inconsistent long-range SW groundswell will ease off slowly through the day ahead of a more steady drop in size through tomorrow and into Saturday. Exposed spots around Bali should drop from the 6ft range tomorrow with inconsistent 3ft to occasionally 5ft waves through Saturday.
Moderate to fresh (during the afternoon) E/SE trades are expected before easing back through Sunday with variable winds each morning at selected locations.
A very inconsistent long-range S/SW groundswell is due into Sunday, generated south-west of WA and this will boost exposed spots to an inconsistent 5-6ft with smaller waves at more protected locations. A slow drop is then due into Monday from 4-6ft.
Next week onwards (Sep 22 onwards)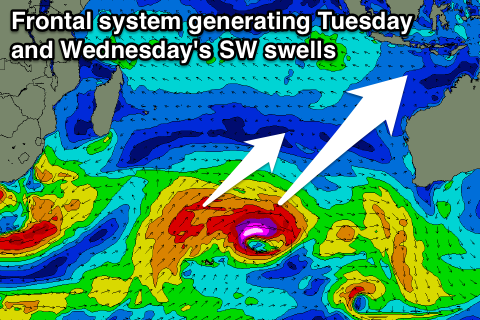 Two solid pulses of SW groundswell are due into Tuesday and Wednesday next week, owing to a strong node of the Long Wave Trough in the Southern Indian Ocean steering a couple of strong polar fronts towards us.
The first swell will be the least consistent but be the strongest with large long-period due to core-winds in the low generating the swell reaching the storm-force range.
This swell should fill in Tuesday and build to an infrequent 6-8ft at exposed breaks through the day.
A secondary weaker fetch of SW gales pushing further north-east towards us should generate a secondary more consistent but less powerful SW swell for Wednesday morning to 8ft+ across exposed breaks before easing steadily during the day.
E/SE trades will strengthen a touch through the middle of next week, becoming strongest through Wednesday before backing off into the end of the week.
The swell will also ease through the end of the week from 6ft+ Thursday and 4-5ft Friday at exposed breaks.
Longer term we should see a new very inconsistent but fun SW groundswell for the weekend, generated in our far swell window, west of and around Heard Island. This swell should fill in Saturday and provide very infrequent 6ft to occasionally 8ft sets at exposed breaks into the afternoon before easing into Sunday.
Beyond this we should see some moderate to large S/SW groundswell emanating from the Eastern Indian Ocean as a progression of strong polar fronts push up towards WA from the middle of next week onwards. This will fill in during the week starting the 29th, but we'll look at this again Tuesday.
16 day Bali Forecast Graph
16 day East Java Forecast Graph
16 day Sumbawa Forecast Graph