Tuesday, 26 August 2014
Large S/SW groundswell Thursday, slower period next week
Java, Bali, Lombok, Sumbawa forecast by Craig Brokensha (issued Tue 26th Aug)
Best Days: Every day (Thursday/Friday for experienced surfers)
This week and weekend (Aug 27 - 31)
A very strong and large kick in SW groundswell Sunday afternoon eased back slowly through yesterday from the S/SW, while a further drop in size has been seen today under moderate E/SE trades.
We should see the swell continue to ease into this afternoon, bottoming out tomorrow across Bali to 4-5ft+ across exposed spots during the middle of the day.
Into the late afternoon we may see the forerunners of a secondary large and powerful S/SW groundswell, due to peak Thursday across Eastern Indonesia.
This secondary large swell was generated by another vigorous polar low firing up from the Polar Shelf under the influence of a strong amplification of the Long Wave Trough, aiming a fetch of severe-gale SW tending W/SW winds towards WA with stronger storm-force winds recorded at its core.
The swell will probably be a touch under the size we saw Sunday afternoon but still come in very large and strong with 10ft waves at exposed spots around Bali, with the possibility of the odd 12ft bomb in the mix.
The swell should hold strong most of the day before dipping away steadily through Friday from 8ft+ at exposed spots and further into the weekend.
Fresh E/SE trades are due over the coming days, strongest tomorrow before easing in strength through the weekend and into next week.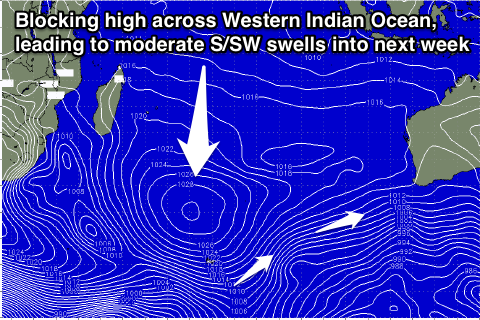 Next week onwards (Sep 1 onwards)
A strong blocking high across the Western Indian Ocean and a node of the Long Wave Trough positioned just south-west of WA will setup a regime of S/SW swells into next week and beyond. Size wise we're only looking at medium pulses through most of next week, with some more size on the cards for the following weekend. We'll look at this again on Thursday though.
16 day Bali Forecast Graph
16 day East Java Forecast Graph
16 day Sumbawa Forecast Graph