WSL update: Umbrella sponsor, Pay Per View, and more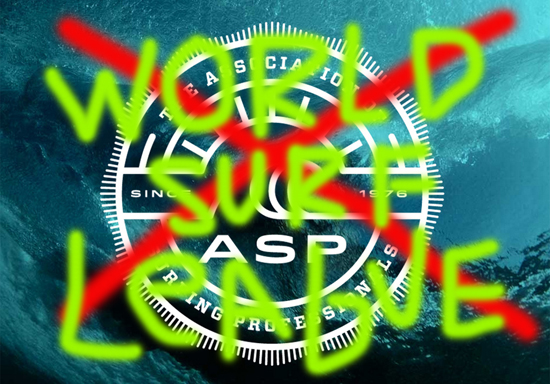 It's mid-February 2015, by now you should be used to typing '15 instead of '14, and if you're real diligent you might've even broken the ASP habit. It's WSL now, no ASP, no ZoSea...just WSL.
We're exactly two weeks out from the first event of the 2015 Championship Tour season, the Quiksilver Pro at Snapper Rocks, and the WSL is yet to announce an umbrella sponsor for the year. You may remember this also happened last year; just when it seemed the WSL - then the ASP! - were going it alone, Samsung banners appeared on the site at Snapper Rocks three days before competition began.
Rumours were that Samsung got the gig at basement level price, some even said for free though they also had first right of refusal for 2015. So did they refuse to follow it up? Unfortunately Dave Prodan, WSL media fella, couldn't shine any light on the topic when I asked recently.
"I do not have any new news to share with you today. We will be confirming our major commercial and media partners for 2015 in the near future," said the ever-optimistic Prodan.
The contractors move onto the site at Snapper Rocks next week. The first clues may be revealed there. As for Snapper, the heat draw was released recently. Here 'tis:
Heat 1: Joel Parkinson, Miguel Pupo, Brett Simpson
Heat 2: Michel Bourez, Sebastian Zietz, Ricardo Christie
Heat 3: Kelly Slater, Fred Patacchia, CJ Hobgood
Heat 4: John John Florence, Jadson Andre, Glenn Hall
Heat 5: Mick Fanning, Matt Banting, Wildcard (TBA)
Heat 6: Gabriel Medina, Wiggolly Dantas, Wildcard (TBA)
Heat 7: Jordy Smith, Kai Otton, Jeremy Flores
Heat 8: Adriano de Souza, Filipe Toledo, Dusty Payne
Heat 9: Taj Burrow, Bede Durbidge, Keanu Asing
Heat 10: Josh Kerr, Adrian Buchan, Matt Wilkinson
Heat 11: Kolohe Andino, Julian Wilson, Italo Ferreira
Heat 12: Owen Wright, Nat Young, Adam Melling
The wilcards are yet to be announced. One will go to the winner of the Trials, the other to a Quiksilver rider (Dane Reynolds? ).
This week talk of Pay Per View (PPV) was raised on the back of an 18-month-old article run on Tracks' website. Nothing new was added to the topic so it can be put down to pre-season banter. Fact is it's too late for the WSL to introduce PPV this year and they won't introduce it mid-season.
Last month I asked Prodan about the possibility of PPV, his reply was emphatic. "We don't have any plans to change our business model. The present model is open access to the world's best surfing."
It would be the height of rudeness to compare Prodan's response to a politician's promise, but the WSL's business model is contingent upon advertising dollars. Putting the umbrella sponsor aside for the moment, the event sponsors have actually contracted from 2014 to 2015. While last year there were two white label events - Fiji and J'Bay - this year Rio is added to that list. It's no longer the Billabong Rio Pro.
As was highlighted in Swellnet's three part series, 'The ASP: It's on but who's watching?', the WSL's current business model is being tested by low viewer numbers. Pay Per View must be a consideration though it couldn't possibly be taken seriously two weeks out from the first contest.
On the topic of sponsorship, the schedule for the Qualifying Series (QS) makes for interesting reading. At present 22 of 35 events are earmarked as 'tentative'. It's not an unusual scenario Prodan assures me.
"Historically, the QS events remain tentative for longer on the schedule as various components - permits, sponsors, licensing, etcetera - take longer to line up. It's a process that we're looking to refine in the coming years and the process is marginally better than it has been in the past."
A plausible explanation, no doubt, though the QS grunts might be harder to satisfy. The season has begun, schedules and flights need to be booked, and the first significant 'tentative' is in May - the Quiksilver Saquarema Pro. The Saquarema Pro has a 10,000 rating - another change the ASP...sorry, the WSL has imposed - which is the highest rating, equivalent to the old Prime events.
Stay tuned for more news.