Fergal Smith and a short history of surfing politicians
Earlier this month Irish pro surfer Fergal Smith announced that he's running for the Green Party in the next Irish general election.
"I am running for the Green Party for my daughter and all Irish children," said Smith. "We all appreciate the major problems our children are going to have to deal with, but perhaps less apparent is that the solutions for them already exist. The next generation needs leaders who are not afraid to lead them into these changing times."
Smith is somewhat of an anomaly as a pro surfer as he refuses to fly for recreational reasons, which severely restricts his promotional ability. He admits that the GFC, which hit Ireland particularly hard, was a blessing in disguise at it caused people to reassess their lifestyles and reorganise their communities.

"Politics was never my intention, but there is a responsibility on us all to be part of the solution, and I will take every step, no matter how challenging, to implement solutions that will safeguard our children's future."
See the video below for Fergal's announcement and explanation.
Good on Fergal and all the best to him. I'd like to say he follows a rich tradition of surfers entering politics but it just isn't so. While surfers have a long history of political involvement most examples are one-off political acts, think Tom Carroll boycotting apartheid South Africa, Wayne Lynch avoiding conscription, or even William Gocher who defied daytime bathing at Manly in 1902 paving the way for Australia's blossoming beach culture.
Many surfers have also joined political advocacy groups, such as Brad Farmer with Surfrider Foundation and National Surfing Reserves, Dennis Callinan and S.A.N.D (Surfers Against Nuclear Destruction), and the many beach-oriented environmental groups.
By and large surfers are absent from the corridors of power. And who can blame us? As noble as it is to serve the public and effect change it's not a vocation that blends well with the surfing lifestyle and the inherent need for flexibility. In other words, we're selfish.
Below are some of the few surfers who have donned the suits for civic service.
Fred Hemmings: Hemming's surfing career peaked in 1968 when he won the World Championships, held in Puerto Rico. At the time, surfing was in the middle of a counter-cultural revolution but 'Dead Ahead' Fred was having none of it. Hemmings arrived at the awards ceremony dressed in a blue blazer, tie, and leather loafers, looking, he recalls, "like an IBM salesman at a Cheech and Chong convention."

Fred Hemmings, at left, with George W Bush and their spouses (Photo Ben Marcus)
Hemmings retired the next year and turned his attention to promoting and administering surf contests, something he did up until 1984 when he was elected to Hawaii's House of Representatives. A particular bugbear of Hemming's was drugs in surfing and from the very beginning he campaigned strongly on an anti-drug platform. In 1988 he wrote a letter to then ASP Executive Director Graham Cassidy asking that the world tour "consider mandatory drug testing for competing surfers."
According to the Encyclopedia of Surfing: "In 1990, Hemmings won the Republican candidacy for the governor's race, then lost the general election. In 2000 he was elected to the state senate."
Fred retired from politics in 2010 his conservative views as pronounced as ever.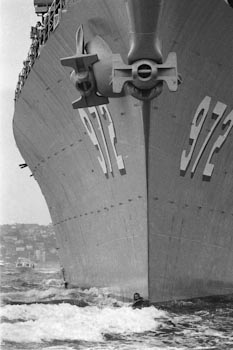 Ian Cohen: Cohen was a frontline environmental campaigner through the early 80s before making a tilt at politics. Befitting his beliefs, Cohen chose the Greens where he contested the Senate in 1984 and 1993. In 1995 he was elected to the New South Wales Legislative Council as its first Green member. In 2003, he was re-elected to the NSW Legislative Council for a second eight year term. He retired from parliament in 2011.
In 1986 Cohen made international headlines by clinging to the bow of the nuclear warship USS Olendorf as it powered down Sydney Harbour (see image at right). Cohen later told the ABC, "I think we sent a really strong message to the powers that be at that stage of the Cold War that there were Australians who objected strongly in a non-violent manner to the entry of nuclear warships into Sydney Harbour."
Cohen is a lifelong surfer who's lived at Byron Bay for the last 30 years. He's a stauch advocate of McCoy surfboards and Gath helmets.
Peter Garrett: Raised in Pymble on Sydney's North Shore, Garrett got his first board, a Barry Bennett noserider, in 1966. Through the late 60s and early 70s he surfed Sydney's northern beaches and early tours with Farm/Midnight Oil were often chosen for their access to quality waves. Early songs such as 'Surfing With A Spoon' and 'Koala Sprint' epitomised surfing and north coast road trips.
Garrett's first attempt at entering politics was in December 1984, when the Nuclear Disarmament Party invited him to stand for a seat in the Australian Senate at the federal election. Garrett's primary vote fell short and he was unsuccessfull.
He joined the Labor Party in 2004 as a member of the House of Representatives until 2013 when he resigned after Kevin Rudd won back the leadership in a spill.
Somewhere along the way Garrett stopped surfing on boards but kept bodysurfing, even bodybashing Pipeline where Nat Young dropped in on him. On that note, Nat had his own interlude with politics when he donated his 1973 Surfabout prizemoney to the Labor Party.
Tony Abbott: It appears we've switched from surfers who enter politics to politicians who pick up a soft board. Whatever, it gives us an opportunity to rerun this photos and that's a good thing. And by the way, the surfer about to scalp Tony is current NSW premier and another politician-cum-surfer, Mike Baird.