With or without you: Quit surfing to get ahead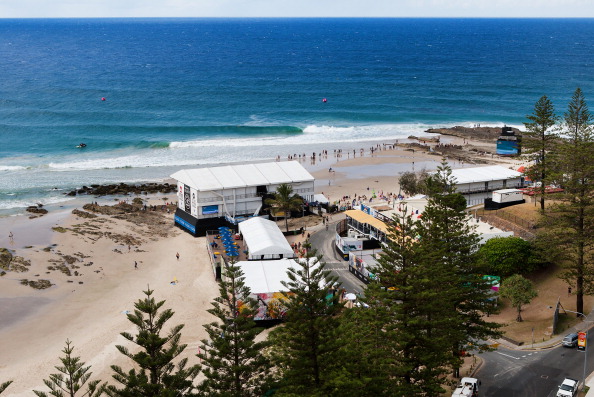 I flew out of Coolangatta seven days ago. Sat myself down in a window seat for the flight home. After takeoff the wing dipped and the plane slowly arced across the coastline, and as it did I spotted the Quiksilver Pro contest structure atop the point at Snapper. From a thousand feet I marvelled at it's diminishing size and its physical insignificance; what had seemed so big just a few hours prior was now a speck against the broad Queensland vista. From this height even the strip of beach and coastline that all Gold Coast life revolves around appeared nothing more than a thin epidermis as the Earth's horizon stretched out in every direction.
It wasn't the first time I've had such thoughts while flying out of Coolangatta. In my experience each visit to the Gold Coast requires a recalibration of perspective. The reason, I've come to believe, is that my version of a surfing life bears little resemblance to that which is put on display at Quiksilver Pro time. At that time the idyll stares down at you from the billboards, haughtily adorns every surf shop, and articulates itself in the tourist brochures. It's ubiquitous and the effect is oddly disorientating. I surf, they surf, so why does it all feel so fucken foreign?
I understand that surfing means many things to many different people. But up there, at that time, it doesn't feel like surfing can be a multitude of things. In fact it feels like the inverse of that. It feels like surfing is a singularity. It feels like surfing is an aggressive, overbearing monoculture.
So each departure from the Quiksilver Pro feels like an escape, and the escape triggers a bout of existential pondering such as the one I recently had on the plane. But what to make of this newly rejigged worldview? You've gotta make sense of these feelings while they last and follow them to wherever they may lead. And with this in mind I went to the office and turned on the computer...
One of the first stories I came across concerned US surf journalist, Jason Borte, and his decision to stop surfing for a year. The idea of abstinence appealed, if a bit dramatic. In my younger years I took similar, though shorter and hence less severe, sabbaticals moving away from the coast when I felt cloistered by the beach. At those times I felt the need to be surrounded by non-surfers, to view the surfing culture from afar. To get some new perspective.
As it happens, Borte's motivations weren't too dissimilar to my own. "I hope to discover some things about myself and about surfing," he said after I contacted him, sounding very much like someone seeking new perspectives.
Yet if my impulse was due to a clash of values, Borte's self-imposed exile – and it is self-imposed, he has no injury or impediment – has a basis in experience. Borte isn't moving away from the coast or away from surfers, "My only restriction," he says, "is that I won't ride a wave, so I still follow the sport, operate a surf camp, and take my son to the beach."
There's no 'greater' goal in Borte's quest. "I'm not religious," he answered when I asked about asceticism, "but I like the notion of self denial." And so it is the simple act of riding waves that Borte will deny himself. "I'm very much looking forward to January 1 assuming I make it that far." In the meantime Borte will document his travails in his cheekily titled blog, How Surfing Ruined My Life.
It was a refreshing exchange. Borte's actions felt like the antithesis of the vacuous 'All we do is surf' jingoism that sells boardshorts on the Gold Coast. Rather than playing superficial dress ups he's delving much deeper into his identity, both as a surfer and as a person, and he's taking the path of most resistance to get there. I thought his action admirable and I couldn't help but wonder if I could do the same. To take a year long vow of abstinence and shock my system into feeling.
At the same time I was conversing with Jason Borte, Tropical Cyclone Lusi began moving southward from Fiji. It's trajectory took it towards that empty bit of ocean above New Zealand's North Island. Call it the sweet spot of our swell window, where a well-placed low pressure system can provide uniform long-range swell to the whole East Coast from Central Queensland south to Eden. Tropical Cyclone Lusi did just that and on Sunday I had one of the best days of surfing I'd had in many years. When it was over, after four surfs and a hundred great waves, I stood on the beach with a mate speaking half-hysterical jibberish, a full moon rising over the horizon bathing the still-peeling waves in iridescent light.
What became clear as we drove home (still wearing our wetsuits and zinc) was that it's easy to get caught up in the myriad activities that surround surfing. That between great sessions there's much empty space and we fill it with pro competition, or content marketed corporatism, or fashion, or music, or the many other aspects that compose our culture. We fill the empty space with the culture itself. So much culture that it sometimes overwhelms. Yet at certain moments clarity is provided and a new perspective becomes clear: in the end all that really matters is riding waves. And any path leading to that realisation is a worthwhile one.