On This Day: Kelly Slater wins the 2008 Rip Curl Pro Bells Beach
Ten years ago today, Kelly Slater beat Bede Durbidge in the Final of the 2008 Rip Curl Pro Bells Beach.
Slater, then a mere 8-time world champion, was surfing his fourth heat of the day and from the first exchange he was on the back foot against Bede. For 27 minutes Durbidge controlled the heat till Slater rolled the dice and paddled to Rincon.
For years Slater had seemingly been able to bend the ocean to his will; waves would materialise in his presence, a quiet patch of ocean would suddenly churn. And that's just what happened in 2008*.
"I thought Bede had me," Slater said later. "I wasn't trying to worry too much or stress, I was happy just to be in the Final, but before the heat I heard Rabbit say something about going up to Rincon so I thought I would sneak up there to see what I could find."
"I was really surprised Bede let me paddle up to Rincon by myself," Slater said. "I thought that when I looked back, he would be ten yards behind me, but when I looked back, he was still in the Bowl. Then that wave came that let me do that big air."
"It's pretty frustrating, but he's the champ and freakish things happen to him," said Durbidge of Slater's move. "I saw him paddle up to Rincon and I just let him go. He just got one and went pretty freakish, did a big air, rode it all the way through and got the score."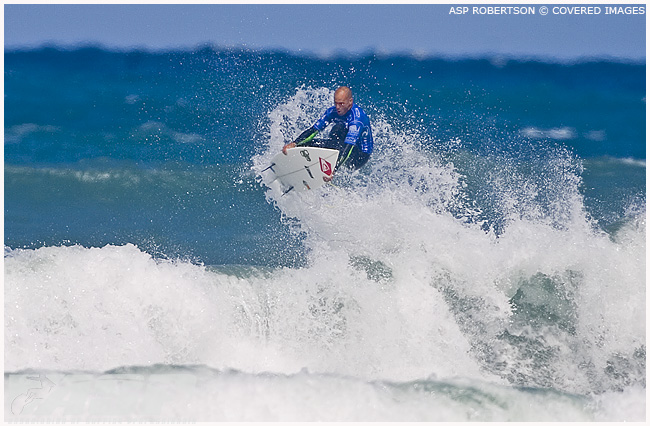 The 'big air' was awarded 8.83 and Slater was gifted the lead and ultimately the Final. It was Slater's third Bells title and his second contest win on the trot - he won the Quiksilver Pro just weeks earlier. He'd score four more wins through the year making 2008, with 6 wins from 11 contests, a close second to 1996 in terms of sheer Slater dominance.
1996 is considered Slater's blue ribbon year. That season he won 7 contests from 14 starts, through the middle of the year he collected 6 wins from 7 starts to wrap the 1996 World Title up with three contests to spare.
But back to 2008: Even ten years ago Slater was playing mind games with the media about competing full time. It was only after he won Bells that he confirmed he'd go to the next comp, Tahiti. As it happened he was rolled by wildcard Manoa Drollet at Teahupoo (who was eventually rolled by the other wildcard, Bruno Santos, in the Final), but then Slater won the following two contests, Tavarua and J'Bay, and later in the year Trestles and Pipe, to collect his ninth world title. It was the last year he'd win with such dominance.
*Another example of Slater's telepathy from 2008: In the semi-final of the Pipe Masters, Slater was comboed by Timmy Reyes. With five minutes left on the clock Slater grabbed first a 9.00 to get out of combo, then a Perfect 10 while paddling back out to reverse the combination situation and win the heat, and then ultimately the contest.
*The 2008 Pipeline Masters was the first outing of the Wizard Sleeve. Slater rode a 5'11" version even during the early rounds which were held in 10-12 foot Pipe. He subsequently rode various interpretations of the snub-nose design over the coming years. Whether this fact is linked with his waning dominance is another argument for another day.