Barry "Magoo" McGuigan: A wonderful surfing life
On a clear winter's day in 2011, I sat on Barry and Debbie McGuigan's deck overlooking Little Bommie on the NSW Central Coast and listened, enthralled, for hours as the man they called "Magoo" recounted the story of his adventurous surfing life. It was a story few got to hear, because Magoo was a modest man. Although his accomplishments as a surfer were considerable, he never sold himself to the judges or the public. He didn't need to. He lived for the joy of riding waves. This is Magoo in his own words. He quietly paddled off the peak on Tuesday, November 18, 2014, aged 85. – Phil Jarratt
*****
I was born on May 24, 1929 at Paddington Royal Hospital. My family was from the Eastern Suburbs, pretty close to the beach, but no one in my family was a beachgoer.
My father was a butcher and my mother a homemaker. I had one brother, Jack, who died on the operating table when he was 29. He was three years older than me. Jack actually got me into riding toothpicks at North Bondi when we were kids. He got one off Gordon Woods during the war years, and a bit later I got one off Roy Ferguson. It was fourteen and a half feet so it would have cost me fourteen and a half quid, which I probably got off my parents, although I did have a part time job working in the Carter family fruit business.
I went to school at Bondi and then went to work at Australian General Electric as a mailboy, then I got into the lighting section. At some point my father felt I was getting nowhere so he put me into butchering. I then got into boning at Tancred Brothers in Liverpool Street. It was a good setup because it was piecework and once you'd boned out so many quarters of beef, you were done for the day. So long as you did your tally, you could work whatever hours you liked, so if the swell was up I'd be in there boning very rapidly.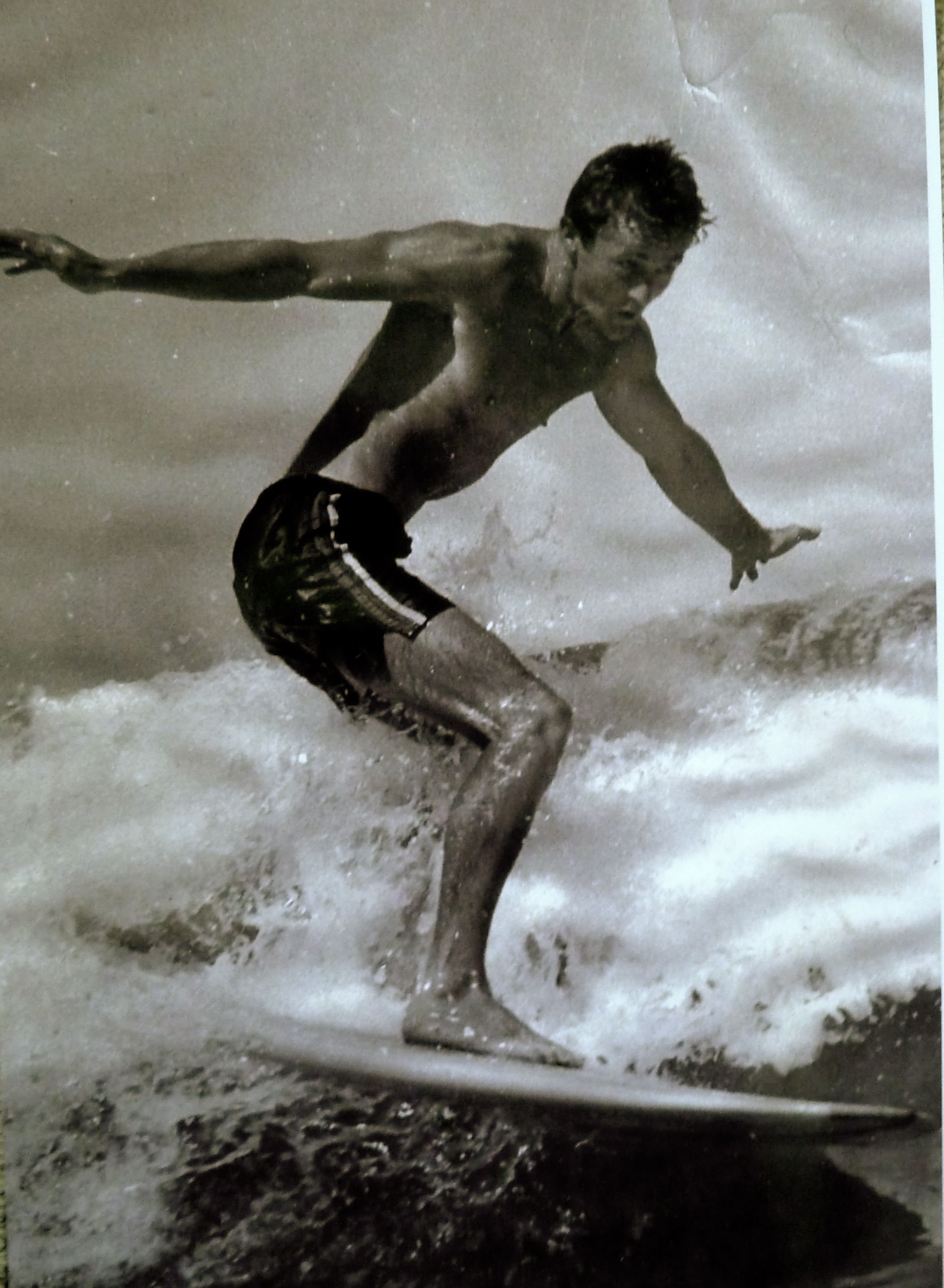 In those early days we were into bodysurfing at Tamarama and spear fishing, then surfboard riding became part of that mix. I think we found spear fishing more challenging than the other things, but that started to change when Bluey Mayes came home from the war and started strutting around the beach in his gabadine jackets with the padded shoulders and the key chain. He was very stylish and a great surfer, so naturally we all wanted to be like him. This was at North Bondi Surf Club, where I was a member for a short time but I left because I really just wanted to ride waves. I lived on the beach at Tamarama by this, but we left our boards at Ray Young's place at North Bondi, next door to the Golden Key restaurant.
The Cornel Wilde boys were the rougher crowd of young blokes at the beach who all wore their hair a bit longer and greasier. I didn't grow my hair and I didn't really wear the clothes either, but I was kind of around the same group. We just wore normal clothes, shorts and tee shirt to the beach, Speedos in the water. In the winter we wore woollen sweaters at first, then later we used latex spear fishing suits (to keep warm).
At the beginning of the 1950s, Scott Dillon, Bruce Laird and I decided to travel overseas. Bruce was a short, thick heavyweight wrestler. The three of us were very much into spear fishing and we'd heard about the great fishing to be had in Sri Lanka, or Ceylon as it was then. So we took the boat over there and fished around the coast for three or four weeks, then we sailed to England and got work as builder's labourers for a few weeks, then we bought an old London cab for 50 pounds. We flew it across the Channel in a plane. You used to be able to drive right up into the cargo planes. Then we drove it all around Europe, to Belgium, Norway, Sweden, Germany, France, Italy and Spain. We didn't have surfboards, just our spear fishing stuff, but the diving was terrible around the Med. The only place we caught fish was on a lake in Switzerland where fishing was illegal and we ended up down at the police station. So we travelled around for a few months, then took it back to London and sold the cab for what we paid for it.
From England we went to Canada where we all got jobs in Toronto. I got work as a butcher and Scotty in one of the department stores, until he got a chauffeur's licence and got a job to drive a new car across to Vancouver. There were supposed to be only two of us but there were six in the end and we took off for Niagara Falls, then across the US to California and up the west coast to Vancouver, where we changed the oil and tyres and presented it as a new car. Again we didn't surf or even see surf, but we stopped off at Hermosa Beach and met a few locals.
Then we decided to go to Mexico, so we caught a Greyhound bus to Mexico City, then flew to Acapulco. Scotty stayed behind in Vancouver to get married, and then he and Mitzi drove down on their honeymoon. We all fished around Acapulco and we body surfed a lot, met (Hollywood star) Lana Turner on the beach. Then we sailed home. Scotty stayed on in Canada.
I got back about the end of 1954 and went into retail butchering. When I was down the beach on my days off, a friend of mine called Barry Ross was always there surfing, and he'd talk about how the surf was during the week, so I asked him how he got to spend so much time on the beach. He told me he was in the fire brigade, so I made some enquiries and joined up at age 26 and stayed a fireman for 32 years before retiring at 58. Everyone at Bondi had a lurk. They were either stewards on the planes or night shift at the post office like Wheels Williams, or firemen. You'd work two days and two nights. The night shift was 14 hours but you'd start at 7pm and be in bed by 11pm, so you had all day to surf.
From 1955 on I was surfing a lot. I was back on a toothpick at first but it changed very quickly. There'd been a few Malibu boards seen at Bondi early in the 1950s and I heard about them but never saw them. I made my own board using Coolite, two pieces joined up using butcher's skewers. Then we put butcher's paper all over it and covered it with epoxy resin. It worked for a while then broke in half. The first Malibu board I had was an okanui that Gordon Woods made. From there we went to the pig shape, and from there to the speed shape double-enders.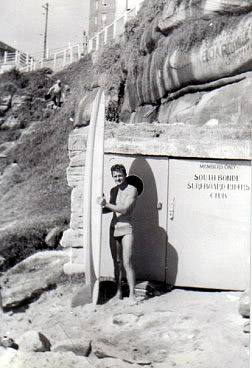 Some time in the late 1950s they banned surfboards from North Bondi, so we had to move down to the designated boardriding area at South Bondi. South Bondi Boardriders Club grew out of the old Bondi Surf Club boatshed that they didn't use any more. We got permission to use it, put in a few board racks and cleaned it up a bit and began leaving our boards there and hanging out in front of it. The shed itself was pretty damp and unliveable. Some of the blokes may have used it for other purposes from time to time, but I never did, although one time I got bashed up while trying to protect it. There was a bunch of wharfies who were mad body surfers and they used to use the shed before us. They'd get changed in there and leave their stuff. Then all of a sudden the doors were put on and a sign that said South Bondi Boardriders Club. This bloke came up to the doors and I asked him if he was a member of our club. He said no and then decked me.
In those days we'd pretty much surf South Bondi all the time regardless of conditions, although we did go to the Bower when there was a big southerly swell. A bloke had an ex-army truck with a big rack on the back of it and we'd all go over in that. Some of us would have to just hang onto the rack all the way. Scotty used to surf a few places around home, like Bare Island when it got bigger, but it wasn't much of a wave. The bloke that started the surf safari was Bluey Mayes. He started driving up and down the coast, then as we got cars we'd do the same thing. We'd travel in packs, a few cars in a convoy, and we went as far as Bells and Phillip Island. Going north we'd go to Yamba and Byron.
I can't remember when South Bondi officially became a club but I know we started having contests against other clubs pretty early. I was also a member of the South Pacific club but I don't remember anything about it. It probably came about because we used to go over and surf Narrabeen a bit. By then I had a little Beetle and I used to take the young Bondi guys over there, like Head Brennan and Rob Conneeley and that crew.
I first went to Hawaii in 1963, on the boat that McTavish and Chidgey stowed away on. There was a big crew of us going over – Bob Pike, Bluey, Scotty, Ugh Andreas, Gordon Merchant, Laurie Short - and we weren't worried about the stowaways. We didn't want to dob them in, so we sort of looked after them, fed them and let them sleep under our bunks. I'm sure the other passengers just thought they were paying customers like them.
When we got there we bought a big old Packard, a real tank. Scotty got a sabre-tooth Buick. We stayed at Rocky Point, a house right on the beach. We arrived quite early in November and we had Sunset at 8-10ft a lot of days. I surfed Pipeline by myself one day on my secondhand balsa. Scotty had an 11 ft balsa gun. Bluey developed a bit of a reputation with the locals. I don't think he got into any trouble but he was a bit of a grump with them. We got along fine, and made friends with Tiger Espere, Paul Gebauer, Paul Strauch, Ricky Grigg, Peter Cole and (photographer) Don James.
We all surfed Makaha that year. Scotty and Bobby Pike got their entries in too late and didn't get a start. I think Mick Dooley missed out too. But this beach inspector bloke from Queensland put down that he was the Queensland champion and I put down that I was Tasmanian champion and they put us straight into the quarters. When we got to the beach the blokes who'd missed out were laughing at us. We looked out to sea and this huge swell was coming around the point like a locomotive. When I surfed I got out past the bowl pretty quickly and turned around and took off…straight down the mine, terrible hold-down. Phil Edwards did the same thing and broke his board. I'd had enough, I paddled in.
I was a bit different from the rest of the group. I didn't drink, I did yoga every day, I was on a vegetarian diet. I got into yoga through reading a book about it and it just made common sense, but with the vegetarian thing I went a bit crazy. I was following some Indian dietician and he said you couldn't drink milk or eat honey, it was ridiculously strict. This was when I was in my early 20s, and having been a butcher I'd been a heavy meat eater, so just stopping like that had a heavy impact on the body and I started losing the pigment on my skin, and I'd get really sunburnt. So I went back to a normal diet. But I kept up with the yoga all my life. One of the things I used to do was pull a piece of string through one nostril and out the other, nostril cleansing. I still stand on my head for 10 minutes every day. I used to sit on the rocks at Bondi in the lotus position and do my meditation.
I was on the list of judges for the 1964 world titles but I never actually judged. I don't remember why. I do remember going over there with my Super 8 camera and shooting some film, but to be honest the event didn't have much impact on me. I shot a lot of film back in those days, up and down the coast and in Hawaii, but I wasn't very good so I never did anything with it. Bluey had all the equipment and he took it very seriously, shot a lot of film. He shot great stuff in Hawaii but Kodak lost it all. He was broken-hearted.
I used to take Head and Bonza around the place looking for surf. Head was a thief at the beach of course, but he was such an incredible surfer. Apparently his home life was a bit sad, but I didn't know the family at all. At that time there were quite a few kids getting into drugs. You'd hear about it but I was never fully aware of it.
I got married in 1985, my first marriage at 56. Then I retired from the fire brigade at 58 and Debbie convinced me to get back into surfing contests. I'd been riding shortboards for years but when the mals came back in, I got back on one and have been ever since.
I've had a wonderful life in surfing. Highlights? Oh, probably Hawaii and the Maldives. Rocky Point would be the standout wave I've ridden. Best surfers I've seen? Conrad Cunha at Makaha switching feet on a ten foot board, Paul Gebauer, Nat of course, on a longboard. Nat and Midget have probably had more influence, good and bad, than anyone else, but for me Wayne Lynch has been the biggest inspiration. I like the quiet seriousness about his surfing. //PHIL JARRATT