Jughead and the history of the Wiz Fish - video
In 1995 the surf industry was just coming off the extremes of the Kelly Slater / Greg Webber 'banana' boards of '92/'93. At the time I was riding a 6'1" x 18'¼". Looking back now those boards looked long and narrow, and they didn't work in fat or gutless conditions. Consequently I was struggling to enjoy surfing smaller sluggish waves.
Around July of '95, Garry 'Wizard' Loveridge decided to make me a 5'6" x 19'¾" x 2'¼" hand-shaped fish.
Garry's been shaping boards since 1968 and he had some ideas from his early years that he thought would work in this era. The 5'6" fish was one of them. It was also the refreshing change I needed to get that excitement back in my small wave surfing.
Garry's step deck design allowed the rails to stay low yet still retain the volume needed in such a short board. The flat rocker in the forward three-quarters helped through the fatter more gutless waves and the late tail kick helped turn and fit in the suckier sections if needed.
I took this board to Bali in October '95 and rode it at Halfway Kuta late in the afternoons after I'd been to the Bukit or after I'd come back from onshore Canggu, and I found myself enjoying the waves I'd promised myself I would never ride.
This was all before the retro/hipster fad that occurred after Donavan and Ozzie made appearances on single fins and bat wing twinnies sporting collared shirts and shit.
Late in December 1995, I rode my fish in the Avoca Pines Charity Classic. I never really did much good in contests, especially in tiny conditions. But this was different, I had my secret weapon for small waves! In the final I took out two of my good mates from North Shelly, Jason Harris and Daniel Haggerty, with Macs boy Joel Gribble in fourth.
Taking the win I recieved a 12 day boat trip on the late yacht Katika and as a reward for my fish I took her along for the ride.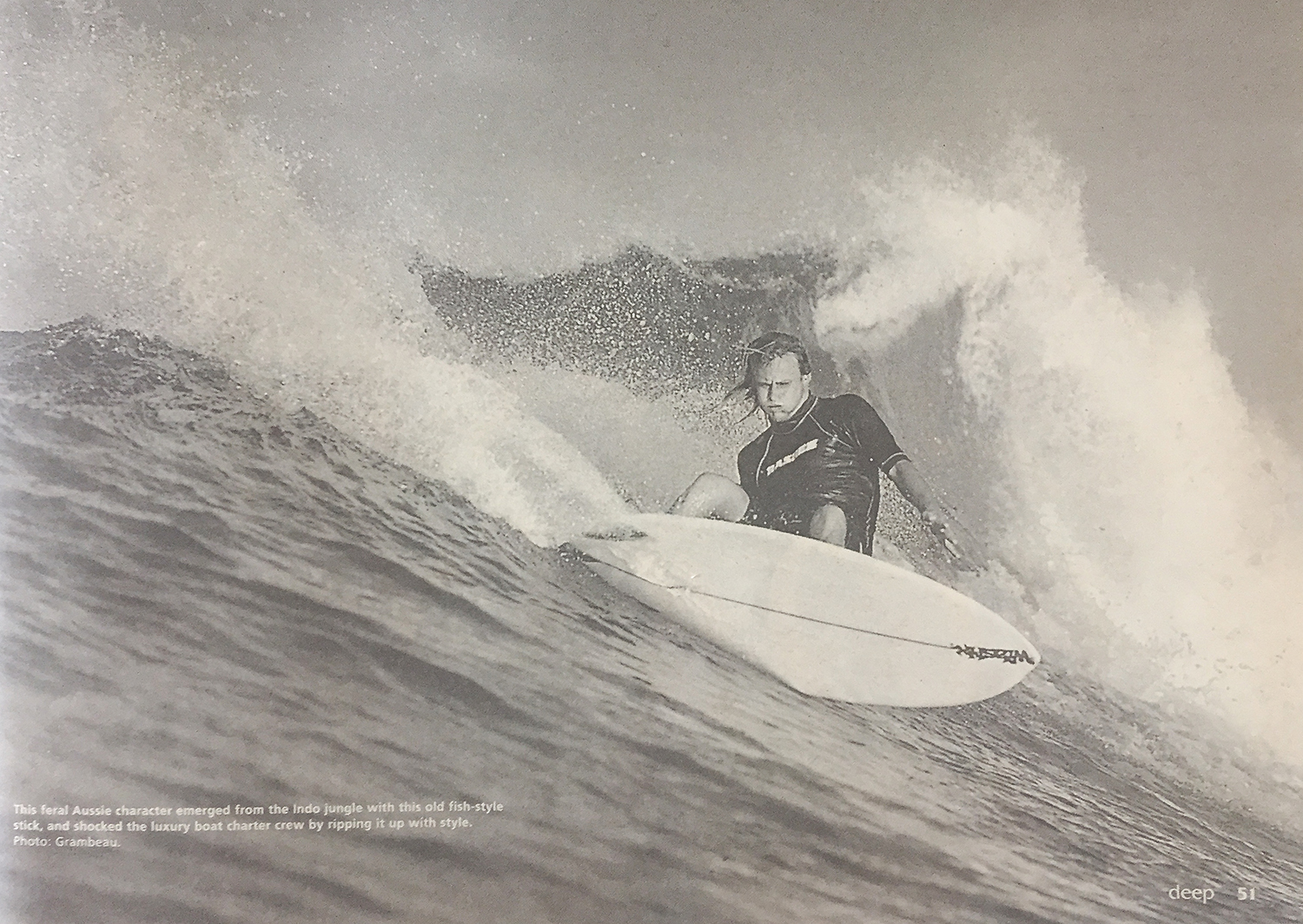 After Garry made me his original fish model, his brother Duck and a few of the locals up here on the Central Coast of NSW had been using them in smaller waves and decided along with myself we'd take them to Sumatra where we tested them out in waves of all conditions, from two to ten feet. They were our go to boards when the waves were small or fat, however we found out that they were also really good all round boards. They worked well in anything.
Before long we got addicted to riding them in all conditions, from two foot Bintangs to ten foot Thunders and everything in between. It became a one stop board for every wave up there. From chop hops to deep caves to drawn out lines, this thing was holding it in everything.

Even the punk Dave Neilson from Umina went on to win an Air Show event in shitty waves in Perth on his 5'4 Wiz Fish

As mentioned in an earlier Swellnet article, Global Surf Industries acquired Garry's original fish design and released a stretched out version of it. They released it under their 7S label as the 'Superfish' model and it went on to be one of the biggest selling board models in history.

21 years on and Wiz is producing the original version of his fish again.

Gary has a few in the racks now at his factory showroom and will be doing orders of these this summer.
Check 'em out at 465 The Entrance Road, Long Jetty, or phone (02) 4334-3987 business hours.