Wednesday, 11 January 2017
Fun waves to end the week, large swells for the weekend
Victoria Forecast by Craig Brokensha (issued Wednesday 11th January)
Sign up to Swellnet's newsletter and receive the Victorian Forecaster Notes and latest news sent directly to your inbox. Upon signup you'll also enter the draw to win a surf trip to P-Pass for you and a mate. It doesn't get much easier so click HERE to sign up now.
Best Days: Both coasts Thursday and Friday, Surf Coast Saturday, experienced surfers Surf Coast early Sunday, both coasts Monday
Recap
Small clean waves around 1-2ft on the Surf Coast yesterday morning and 3ft to occasionally 5ft on the Mornington Peninsula before sea breezes kicked in.
Today a new W/SW groundswell has come in at a good 3ft on the Surf Coast and 6ft on the Mornington Peninsula, and NW winds have provided the best surf in a while west of Melbourne. A further kick in size is due later this afternoon but this will be with an onshore wind.
This week and weekend (Jan 12 - 15)
This afternoon's further kick in SW swell is being generated by a tight and intense mid-latitude low that was directly south-west of us overnight and is now passing under Tasmania.
This low formed late in our swell window, and as a result we're only expected to see a slight kick in size this afternoon, easing overnight. Sets to 3ft+ are likely on the Surf Coast and 5-6ft on the Mornington Peninsula but with an onshore wind.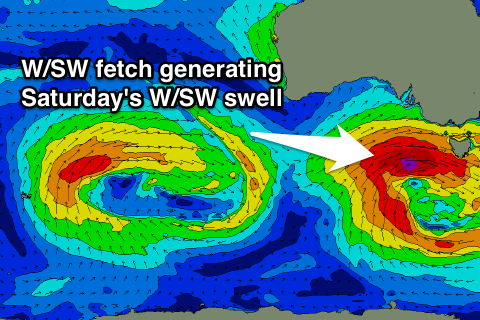 While the swell will ease tomorrow, a mid-period SW swell will fill in and replace it, produced by a trailing fetch of strong W/SW winds projecting towards us today. This should keep 3ft sets hitting the Surf Coast all day tomorrow and 5-6ft waves on the Mornington Peninsula, easing from 3ft and 4-6ft respectively Friday morning.
Conditions tomorrow morning are now looking good across both coasts with a light variable wind expected ahead of SE sea breezes, and then Friday will be straight and clean with a moderate to fresh N/NE tending NW breeze and then late W'ly change.
This W'ly change will be linked to the strong cold outbreak approaching from the west.
Currently this system is west-southwest of WA, generating a fetch of severe-gale to storm-force W/SW winds in our western swell window.
As the mid-latitude low drifts east it will weaken a touch, traversing towards the Bight while generating W/SW gales. As it moves through the Bight and closer to us, it will re-intensify, generating a fetch of gale to severe-gale W/SW winds through our western swell window Friday and Saturday morning, followed by a trailing fetch of severe-gale S/SW winds through our southern swell window on the tail of the low through Saturday morning.
We should see a large, long-period and consistent W/SW groundswell building rapidly Saturday, peaking overnight and then easing Sunday as the S/SW groundswell fills in.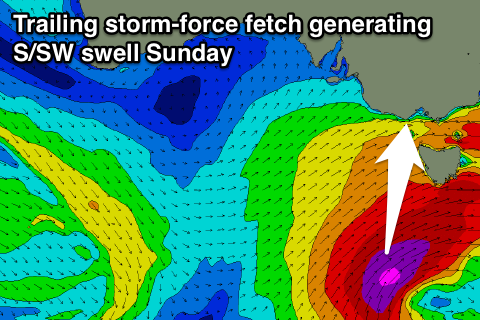 Saturday morning is likely to be around 4-5ft on the Surf Coast and 6-8ft on the Mornington Peninsula, with a further increase to 6ft+ and 10ft+ respectively due through the afternoon (8ft sets at magnets on the Surf Coast on dark are more than likely).
The S/SW groundswell looks large and should keep 6ft sets hitting the Surf Coast Sunday morning, easing through the day and 8ft on the Mornington Peninsula.
An offshore W/NW breeze is due Saturday morning across the Surf Coast, swinging W'ly through the day and W/SW into the afternoon, but protected breaks should remain decent.
Sunday, SW winds are due across most locations, but Torquay is more than likely to offer a morning W/NW'ly, but it won't be perfect.
Next week onwards (Jan 16 onwards)
Come Monday the weekend's swell will continue to ease, likely from 3-4ft on the Surf Coast and 6ft on the Mornington Peninsula with local offshore N'ly winds.
Smaller surf is due Tuesday and Wednesday, ahead of a small inconsistent W/SW groundswell. But we've got plenty to deal with before then.