Wednesday, 11 January 2017
Mix of swells ahead with brief windows of potential
South-east Queensland and Northern NSW Surf Forecast by Ben Matson (issued Wednesday 11th January)
Sign up to Swellnet's newsletter and receive the South-east Queensland and Northern NSW Forecaster Notes and latest news sent directly to your inbox. Upon signup you'll also enter the draw to win a surf trip to P-Pass for you and a mate. It doesn't get much easier so click HERE to sign up now.
Best Days: Thurs AM and possibly Fri AM should see some fun small beachies. Sat PM has some late possibilities on the Mid North Coast (if local winds ease). Sun AM has the most potential with a peaky NE swell and early light winds in Far Northern NSW and SE Qld. Mon/Tues: building S'ly groundswell in Northern NSW.
Recap: E'ly swell eased slowly through Tuesday and Wednesday, and northerly winds have made for challenging conditions across the coast. protected spots have pulled in some OK waves though, as per this afternoon's frame grabs from our Kings Beach surfcam (below). This appears to be the new pulse of E'ly swell mentioned in Monday's notes.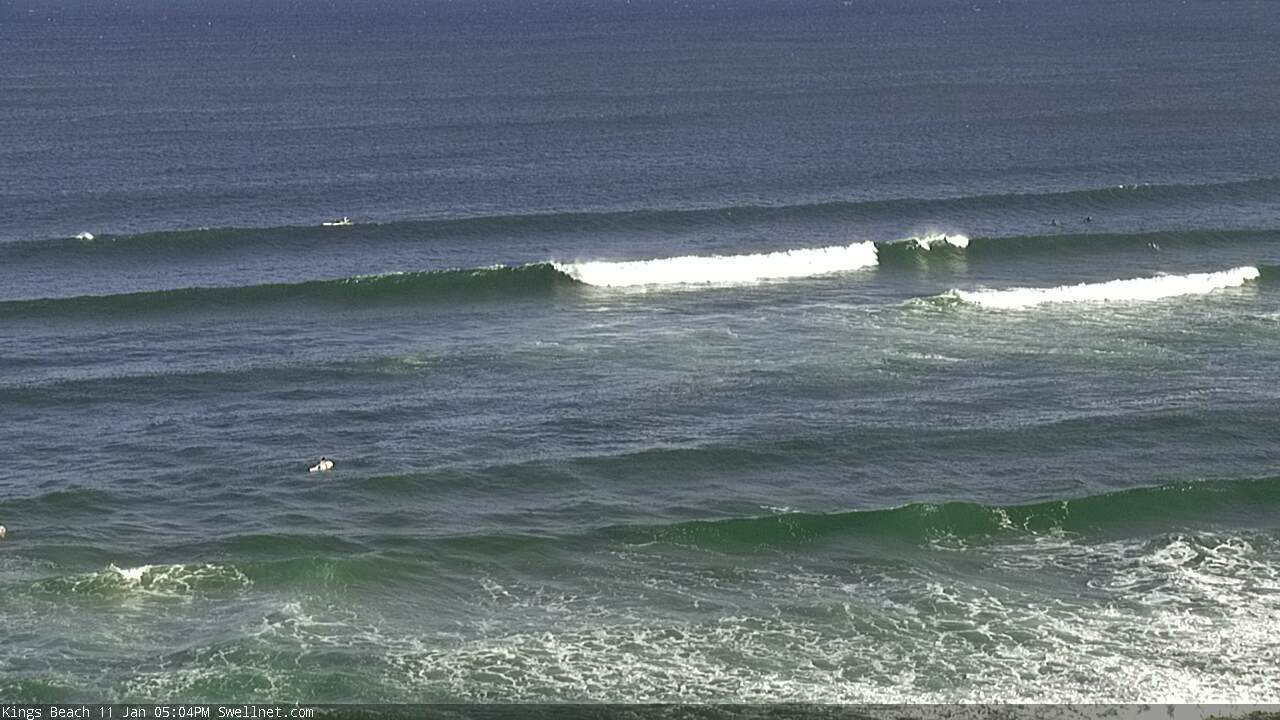 Good options at Kings Beach this afternoon
This week (Jan 12th - Jan 13th)
Whilst the approaching southerly change (just pushing into Sydney now) is expected to stall off the Mid North Coast overnight - therefore not reaching the Far North or SE Qld coasts - it will disrupt the current northerly airstream for a period. And that's a good thing.
Therefore, Thursday will deliver mixed, but occasionally workable conditions across the region. Dawn should see light W'ly winds across the Northern NSW coast tending moderate NW across SE Qld, but a gusty S/SW breeze should be into the lower Mid North Coast just before sunrise. This will push up towards Coffs and Yamba during the morning, but probably won't reach Ballina or Byron, creating variable winds through the afternoon north of here (though NE breezes may develop across the Sunshine Coast). Northerlies are certainly a possibility across SE Qld beaches on Thursday but in general conditions should be OK.
Moderating S'ly winds will occupy the Mid North Coast throughout the day, though not of any major strength.
As for surf, the anchored E'ly fetch south of New Caledonia and Fiji over the last few days is generating a minor bump in size that seems to be pushing into the Sunshine Coast right now (see photo above), and should show well into Thursday morning. Set waves will be inconsistent, but open beaches should see occasional 2ft to almost 3ft sets at times across SE Qld and Far Northern NSW, with slightly smaller surf south of Coffs Harbour.
No major surf is expected in the lee of the southerly change, as the trailing fetch isn't very strong nor very wide or deep. South swell magnets may pick up a few stray sets from the parent low into Friday not nothing worthwhile is expected here (1-2ft tops, and inconsistent).
Otherwise, Thursday's E'ly swell will then ease slowly into Friday and early light variable winds will give way to freshening NE breezes in the afternoon that will probably become quite gusty across the Mid North Coast.
This weekend (Jan 14th - 15th)
The weekend looks pretty ordinary at first glance, but there are some possibilities of good surf in most areas at some point.
Small residual E'ly swells will pad out the open beaches on Saturday - and perhaps a trickle of leftover south swell at exposed swell magnets south of Byron - but strengthening N'ly winds will render most beaches unworkable. We may see periods of NW winds but without any major surf it's hard to get excited.
A trough moving northwards will contract these strong winds to the Far Northern NSW and SE Qld coasts throughout the mid-late afternoon, and we should see some peaky N'ly windswell about exposed locations, mainly those south of Ballina (3ft+ sets quite likely). It'll be worth keeping a watch on local winds as we could see a few windows of opportunity open up across the Lower Mid North Coast late in the day.
Strong southerly winds will develop in the lee of the trough, and they're expected to reach the Mid North Coast well before dawn on Sunday, in fact the change could be as far north as Yamba by sunrise before crossing the border around lunchtime and reaching the Sunshine Coast mid-afternoon.
Although very small in size, the fetch contained within the change will be quite strong and there's a chance for a decent S/SE windswell to build into the afternoon. The accompanying winds will wipe out most open beaches (especially in Northern NSW) but SE Qld could see some small runners down the points in the few hours before dark - it's all about the timing of the change. Right now it's knife-edge but if I had to hazard a guess I think we could see some 2ft peelers right on dusk on the southern Gold Coast points (less likely on the Sunshine Coast).
Also worth mentioning - and this is a better swell scenario anyway - is that Sunday morning could see some really nice peaky waves across SE Qld and Far Northern NSW beaches, ahead of the change.
As the N'ly fetch retreats northwards on Saturday, it'll strengthen off the Southern Qld coast overnight Saturday and we could see peaky 2-3ft surf at open beaches early Sunday, brushed clean by a light offshore wind. The southern end of the Gold Coast and the Tweed Coast is your best chance for this to happen; we'll probably see a smaller version across the Sunshine Coast but I fear the fetch length may be a little too short.
Let's review on Friday!
Next week (Jan 16th onwards)
A deep Southern Ocean low related to Sunday's change will push into our far southern swell window on Saturday. This is expected to generate a reasonably strong S'ly groundswell that will build across Northern NSW on Monday and then peak Tuesday morning.
It's still unclear how much size we'll see as this system is moving around in the model runs, but it's showing signs of some very good quality surf, possibly maxing out at 4-5ft range at reliable south facing beaches (south of Byron). We still need a few more days to tie up all of the loose ends though.
Otherwise, there are no other major swell systems on the boil for the longer term period. See you Friday!