Wednesday, 8 January 2020
Average end to the week, interesting developments on the weekend
Victoria Forecast by Craig Brokensha (issued Wednesday 8th January)
Best Days: Selected spots tomorrow morning, dawn on the exposed beaches Friday, Monday morning
Recap
Poor conditions across the Surf Coast with a tiny swell and onshore winds, workable to the east and to 2-3ft.
Today a new SW groundswell is on the build, with Cape Sorell spiking this morning, and it was coming in at 2-3ft across the Surf Coast and 4-6ft to the east early but with onshore winds. A further pulse in size due to 3ft to occasionally 4ft on the Surf Coast and 5-6ft to the east is due through the day as onshore winds persist.
This week and weekend (Jan 9 - 12)
The polar low (remnants of TC Calvnia) linked to today's swell was slow moving and long-lived and as a result, while a peak in size is due this afternoon across the state, we'll see the easing trend tomorrow be drawn out.
We should see easing sets from 3ft+ on the Surf Coast swell magnets, 4-5ft to the east and winds are now looking less favourable.
A moderate E/SE breeze is due across most locations, creating bumpy and junky conditions, only favourable for a few locations, freshening from the S/SE through the day.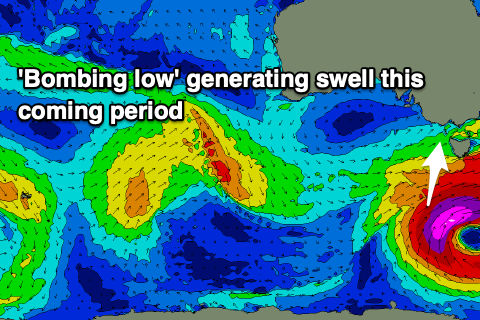 Friday will be clean early with a fresh to strong N'ly wind, shifting W/NW late morning ahead of a strong SW change. Size wise the Surf Coast is only due to be small and fading from 1-2ft, better to the east and to 2-3ft.
Moving into the weekend and our strong onshore change and increase in mid-period S/SW swell now looks a little stronger and accordingly bigger. Conditions though still look poor.
A deepening trough, come front, come polar low will develop late in our swell window, and like last weekend, this low is now forecast to also 'bomb'.
It'll drop over 24hPa in central pressure over 24 hours on Friday evening and into early Saturday, resulting in a fetch of strong to gale-force SW winds developing in our southern swell window, reaching severe-gale just before pushing east out of our swell window.
Saturday will see a building mid-period SW swell, likely to 3ft+ on the Surf Coast and 4-6ft to the east, with a strengthening S/SW groundswell through Sunday and peaking Monday morning. Sunday looks to 3-4ft on the Surf Coast and 5-6ft to the east, with the groundswell Monday morning coming in at 4ft on the Surf Coast, 5ft to the east, easing through the day.
Coming back to the local winds and strong SW tending S/SW winds will create poor conditions Saturday, moderate to fresh S/SW tending S/SE on Sunday. Monday looks cleaner as winds tend E/NE and with the S/SW groundswell, there should be some quality options on offer.
Tuesday the swell will be much smaller and almost gone and a trough looks to bring a return to onshore winds. We'll confirm this on Friday though.
Longer term a strong polar low forming south of WA on Sunday should produce some good new W/SW groundswell the middle of next week but with onshore winds. Check back here Friday for more on this and the sizing and timing of the S/SW groundswell from the 'bombing low'.