Wednesday, 24 April 2019
Building S'ly swells over the weekend both in size and power
Sydney, Hunter and Illawarra Surf Forecast by Craig Brokensha (issued Wednesday 24th April)
Best Days: Open beaches keen surfers Thursday morning and Friday, keen surfers Saturday, Sunday, Monday, Tuesday
Recap
A slow drop in E'ly swell energy from a fun and clean 2-3ft yesterday morning, a slower 2ft today and now with freshening NE sea breezes.
Today's Forecaster Notes are brought to you by Rip Curl
This week and next (Apr 25 – May 3)
These notes will be brief as Ben's away today.
We'll see the current E/NE trade-swell continuing to lose size and consistency into the end of the week as a result of the trade-flow linked to it weakening this week in the Coral Sea. In saying this though a more distant fetch of persistent E'ly trades will likely provide background levels of swell to 1ft to occasionally 2ft until mid-late next week.
Tomorrow should still see inconsistent 2ft sets with a morning offshore ahead of a shallow S/SE change midday or so, weak E/SE later in the day. Friday will then ease from an inconsistent 2ft on the sets with a moderate to fresh W/NW tending W/SW breeze.
Moving into the weekend and we've got tricky and directional pulse of S'ly groundswell on the cards from Saturday through Tuesday as a series of vigorous cold fronts push in across Tasmania and through the southern Tasman Sea.
The weekend's first pulses will be produced by the same severe low linked to large surf to finish off the Rip Curl Pro though consistent of two different sources. One will be swell spreading radially up from W/SW gales exiting eastern Bass Strait Friday afternoon and evening, tending more SW while moving up the coast into the evening and early Saturday.
While south of Tassie a much more significant fetch of SW gale to severe-gale winds will generate a better S'ly groundswell pulse for Sunday.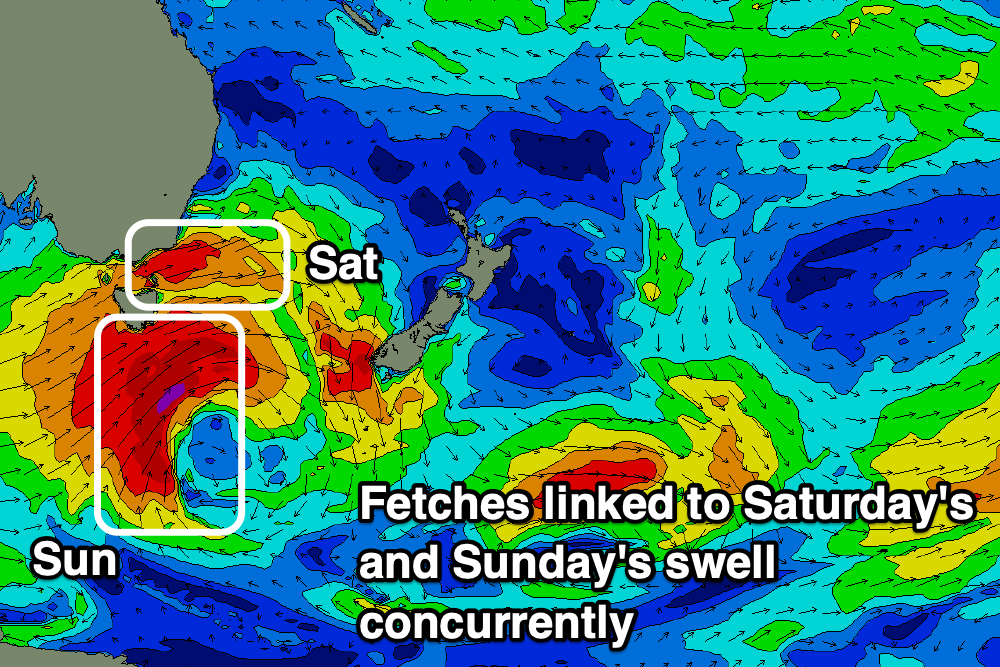 Saturday's first mid-period swell should build through the day, with the morning likely to be smallish and to 2-3ft at south magnets in Sydney, increasing to 4-5ft through the day and more so afternoon, bigger in the Hunter and smaller on the South Coast.
Winds will moderate to fresh from the SW Saturday morning across most spots, likely more W/SW around the Northern Beaches, tending S'ly later morning and S/SE-SE into the afternoon.
Sunday looks much cleaner with a W/NW offshore tending a little more SW early afternoon and S/SE later with the S'ly groundswell coming in at 5-6ft across south magnets in Sydney, possibly a little bigger in the Hunter. Deep water offshore reefs are likely to be bigger again.
Another more zonal front moving across Tassie and directing a fetch of W/SW gales oblique to our south swell window should produce a reinforcing S'ly groundswell for Monday to 3-5ft across south magnets in Sydney, smaller on the South Coast and larger in the Hunter.
Winds will be favourable and offshore during the morning again out of the W/SW, E/SE into the afternoon and then Tuesday looks excellent for south magnets with easing surf from 3-4ft with a NW tending NE breeze.
Longer term there's nothing too significant on the cards besides a small NE windswell late week and a possible slight re-intensification of the trade-flow, generating a boost in E'ly swell next weekend, but more on this Friday.