Tim Baker: Centurion of Surf!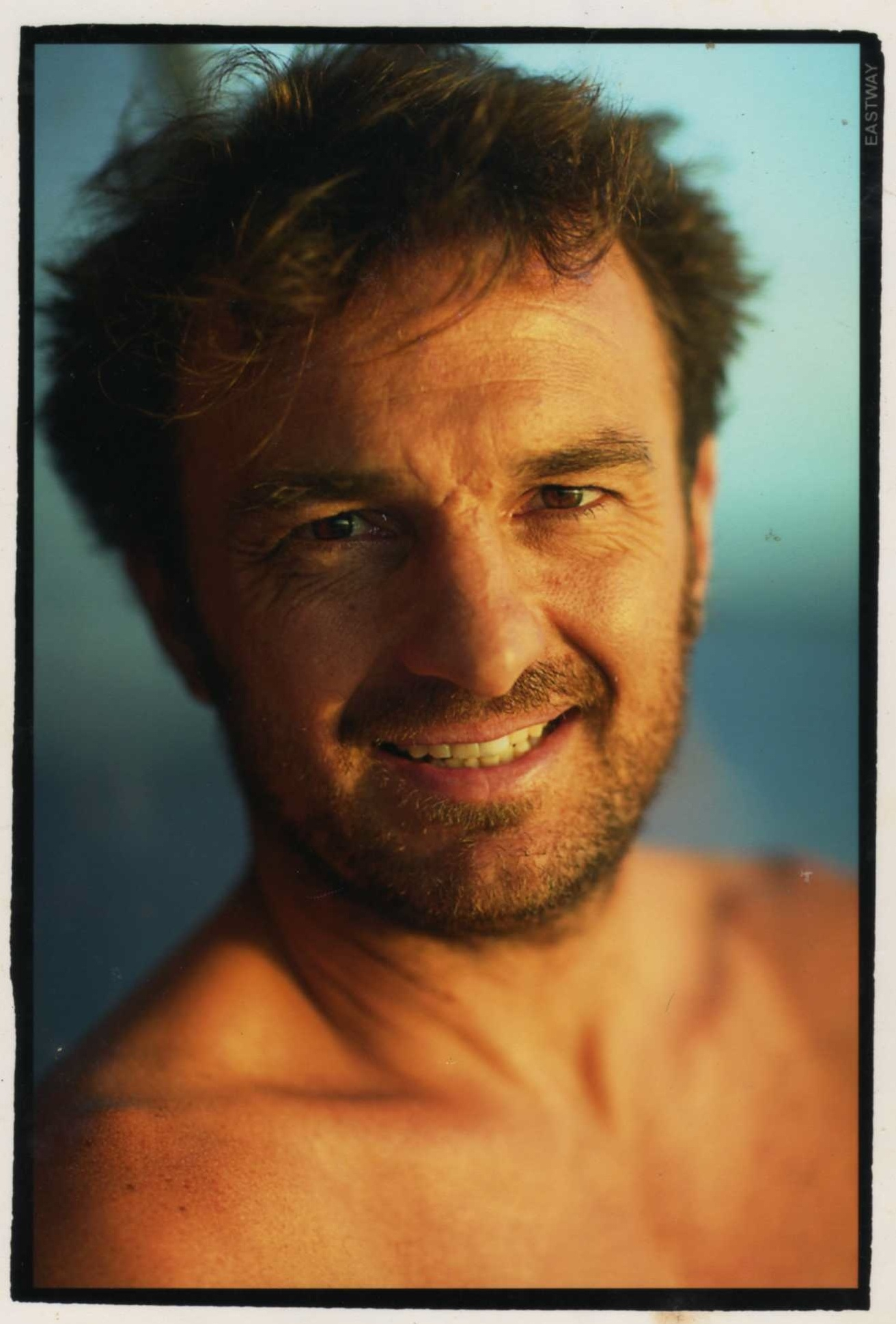 Tim Baker needs no introduction to a surfing audience but courtesy dictates that we should give him one anyway. So being the courteous folk that we are here goes...
Tim has been writing about surfing for over 25 years, first as the editor of Tracks, then Australia's Surfing Life, and more recently a work-from-home freelancer who pens the odd article between writing books. He's up to nine now. The most recent, Australia's Century Of Surf, having hit the shelves a month or so back.
Swellnet spoke to Tim about the role of recording history which, fortunately for you readers, is not nearly as dull as it sounds.
Swellnet: Australia's Century Of Surf is a history of Australian surfing, or as it's been called, an alternative history of Australian surfing. Are you comfortable with the term alternative history?
Tim Baker: Yeah, I guess I gave it that tag. It was probably for a couple of reasons. It was partly in response to the discovery I made halfway through my book that Phil Jarratt was doing his book [Surfing Australia: The Complete History of Surfboard Riding in Australia]. Which initially was a bit disconcerting.
When I took on the project I figured there hadn't been a comprehensive history of Australian surfing written since Nat did his back in the mid-80s and it was well overdue. My publishers actually came to me with the concept, with the centenary of Dukes visit coming up. I was really enthusiastic and then I heard about Phil's book. I thought it was a history of Surfing Australia and I wasn't that concerned and then when I saw it...like I say, alternative history is probably the tack I would've taken anyway but seeing Phil's book made it clearly defined for me that I just wanted to tell previously untold stories. To fill in the gaps.
Were you surprised by how much untold, alternative history there is out there?
Yeah, as I say in the introduction, if things hadn't have been documented in films or magazines, then as far as our collective cultural memories go then they never happened. With things like that Sports Illustrated article about Ian Cairns winning the Smirnoff Pro in 1973 on a tri fin, and a mainstream magazine like Sports Illustrated feeling compelled to write a major feature about it. I thought I knew my surf history pretty well so how come I didn't know about this?!
Kanga is a pretty, um, brusque sort of character so didn't ingratiate himself with the surf media of the day. And it made me reflect on the degree to which that may have swayed our impression of history. There are things that get repeated over and over, partly because there are really compelling images and footage of them. The Witzig's films and photos are a great example; they're such strong images that they become all pervasive.
It's interesting you raise the name Witzig because they've been charged, most often by Midget Farrelly, of shaping history to suit themselves and their friends. Shining the media spotlight on some surfers while ignoring others.
Yeah, indeed.
It's also interesting because you have been the editor of two of Australia's pre-eminent surf magazines – Surfing Life and Tracks. When you were in the role as editor did it ever occur to you the duty or responsibility you had?
Yeah, I'm not sure. I think I thought of it as a responsibility but I didn't think I thought of it as documenting history. You're putting out a monthly magazine, you're pretty much in the moment. I don't think I often stopped and reflected if we're giving a really kind of balanced and comprehensive overview of the state of Australian surfing that would stand up as a historical record.
Lots of people in the surf media have been guilty of focussing on their mates. It's something John Witzig was completely up front about. He said, "I photographed people I liked. I didn't like Peter Drouyn so I didn't photograph him." So I don't think he was thinking in terms of the historical record either. But we've all got our biases and blindspots, and it takes a pretty careful examination of all the available resources to come to any kind of objective truth. And I don't know if that is even possible ultimately.
But I really strongly got the impression that Midget and Peter Drouyn were two surfers who'd been done a disservice by the popular version of history. And to an extent almost driven mad by it. I think Midget takes it to a real extreme, he just tries to completely dismiss the contribution of people like Bob McTavish. For me that's a bridge too far, I do think Bob's made a significant contribution. The voice that I thought sounded most convincing was Wayne Lynch. I felt that Wayne was almost my Switzerland, you know?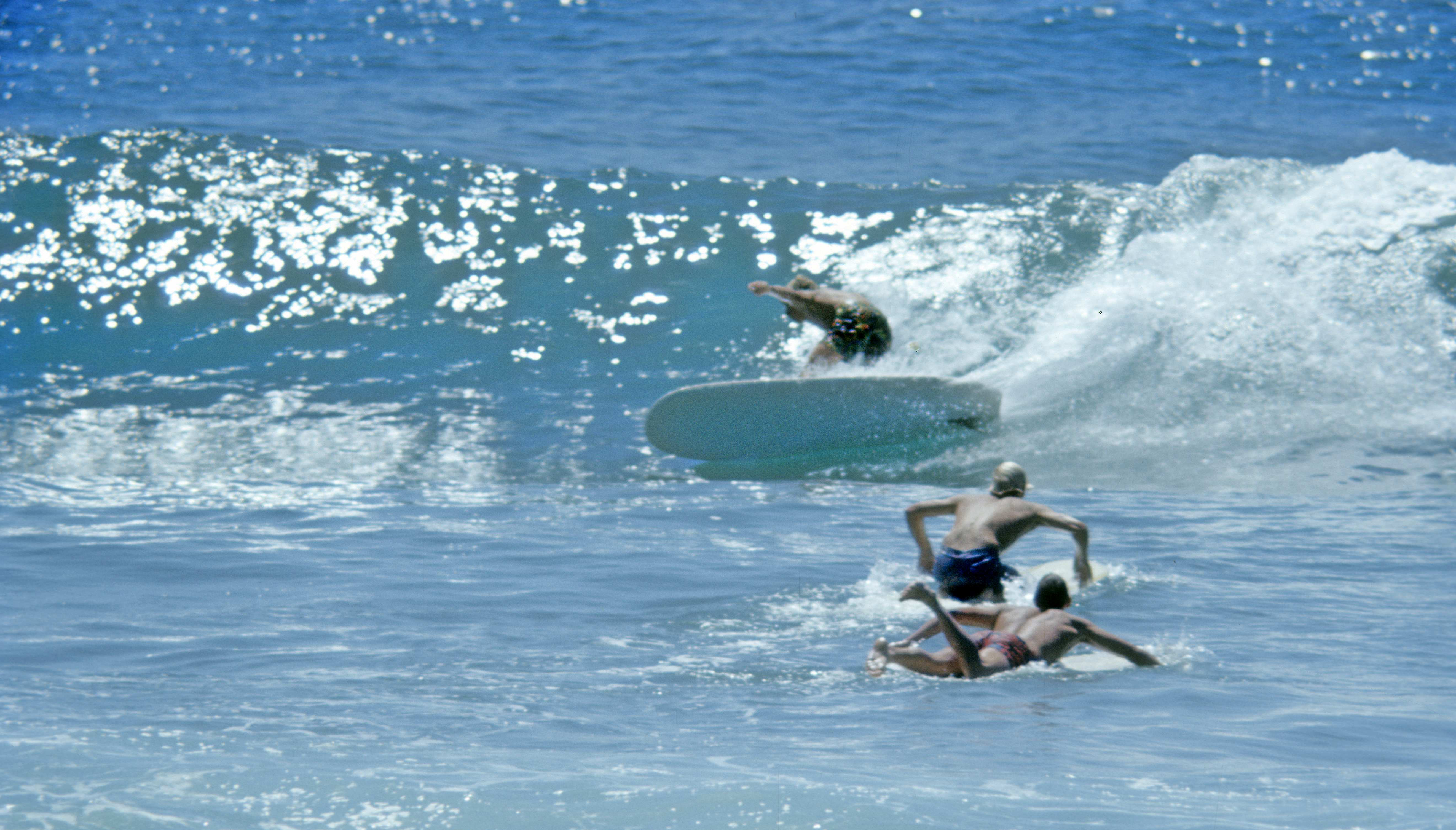 Midget Farrelly, Long Reef, November 1967, banking an 8 foot egg off the bottom a month before Bob and Nat's purported paradigm shifting session at Honolua Bay (Photo Dick Graham)
I'd talk to Midget and I'd get swept up in Midget's version of events, and from a writers point of view, trying to say a fresh word, it would've really suited me running with Midget's line: "Everything you've ever read about in surf history is complete garbage! Bob McTavish never did anything!" You know, it's controversial and it'd get people talking. Then I'd talk to someone like Wayne and he'd say it was Bob's boards that completely turned him on. He saw all the potential in surfing vertically and putting the board up on a rail.
Just little insights like that turned a light on for me. You've really got to take in a broad range of views because everyones perspective is coloured so hopefully come up with something that's a reasonably representative mosaic.
Speaking personally, I'm always wary when anyone or anything proclaims to be the definitive account of something. I think we have to acknowledge that all history telling is coloured by the tellers account.
Totally, and that was something I tried to own up to up front. At the same time, I was being as objective as I could be, I don't have any particular barrow to push. You know, Midget's got this view that every person in the surf media falls into one of two camps: you're a Nat guy or a Midget guy. And if there was one person who I felt I tried to champion a bit it was Midget yet ultimately he was still unhappy with the account I gave 'cause it acknowledges McTavish. You know, they're mentioned in the same paragraph.
Has Midget said anything to you personally?
Yeah, we sort of had a few email exchanges. On the one hand he's passed on lots of positive feedback that he's had from other people, while at the same time he's said it shows how brainwashed our generation were by the snake oil salesman who were spruiking the Nat, Bob, George line. I mean, I've got great regard for Midget and I do think he's been really ill-served by the popular version of history and I did have a little bit of a mission to restore him to his rightful place.
When you think of this 18-year-old kid going to Hawaii and winning Makaha. On a balsa board too which is something I hadn't appreciated. In '62, long after fibreglass had come in he made himself a balsa board 'cause he watched all the old Bud Browne movies of Makaha and they were all riding balsa board so he thought he needed a balsa board. And it was 9 foot long! Nat was supposed to have started the shortboard revolution by riding a 9'4' in '66 in San Diego. I remember as a kid reading that and it not quite ringing true. "9'4"? That's not a shortboard?!"
Moving beyond the media context, let's talk about the story of Harry Wicke. It's an extraordinary story and until your book came out largely unknown. How did you come across Harry's story?
Midget was the first one who mentioned Harry. He told me there's this guy who was the Australian champion and he was interned during World War 2. He didn't know much more but then I was speaking to Geoff Cater who runs surfresearch. He said to me he appeared on an episode of Foreign Correspondent on the ABC recently. He's still alive and he's living up your way in Queensland somewhere. I Googled Harry Wicke and found a photo of him celebrating his 98th birthday at the Tranquil Waters Retirement Village at Victoria Point. I rang them and asked if they had a Harry Wicke there. They said yeah. I said, is that the Harry Wicke who used to be the Australian surfing champion? And they said proudly, yes it certainly is!
That to me was the greatest find of my research, finding Harry. I visited him half a dozen times, had long conversations with him. I never imagined that I was going to hear someone talk about surfing in the 30s who actually lived through it..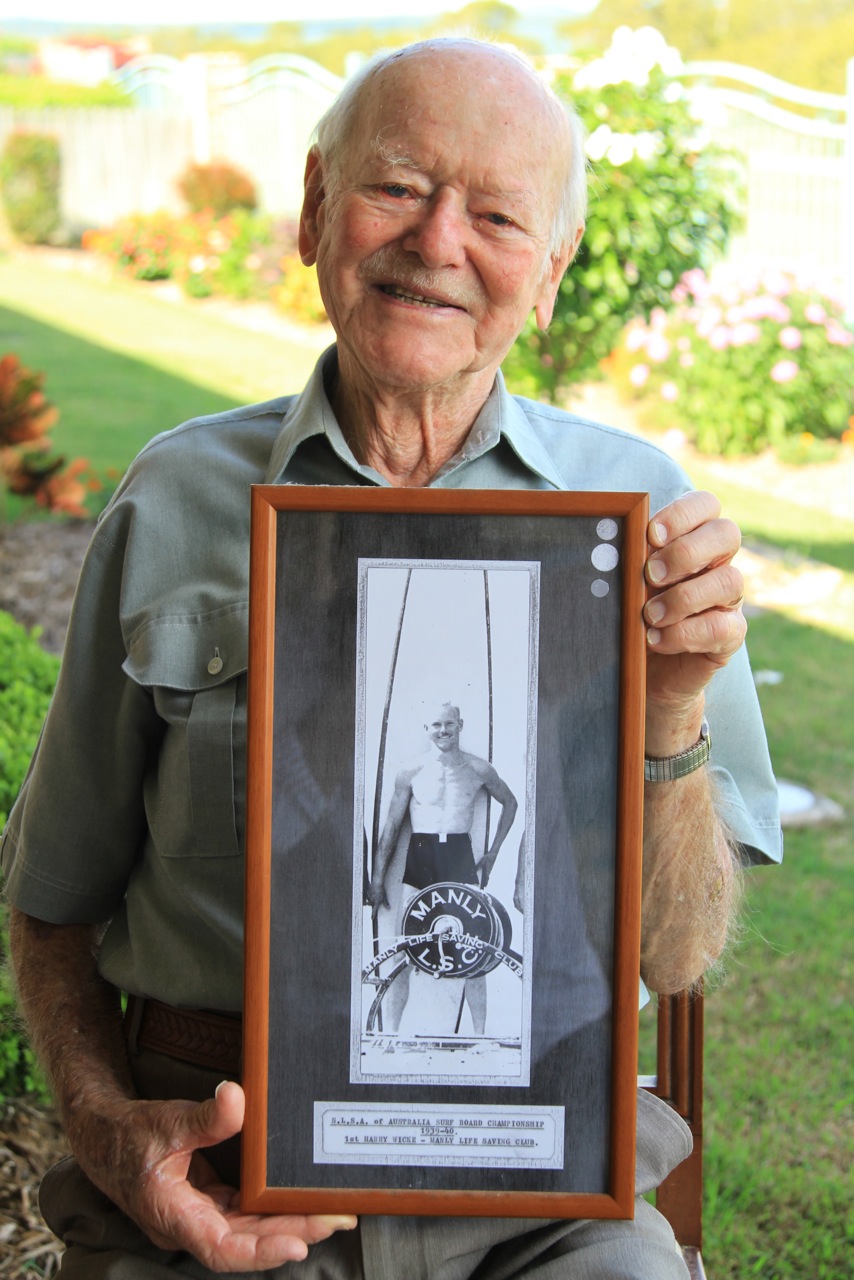 It's an incredible tale, isn't it?
Oh, it's extraordinary, it's the best story I've come across in my writing career. And even just apart from the extraordinary events of his life is his descriptions of surfing which are a complete revelation. You think about surfing in the 30s and you imagine sort of teetering towards the beach in the whitewater on a 16 footer and he describes broaching on solid Hawaiian timber boards. He realised it's easier to stop 2 foot of width from nose diving than 9 foot of length so he'd take off sideways holding the rail. In that way he could take off on any wave. He also describes getting barrelled. So taking off sideways, getting barrelled...I never imagined that was going on in the 30s.
We started off talking about the different versions of history. Century Of Surf probably wont be the last account, but do you think Harry Wicke's story will make it into all the subsequent accounts of Australian history?
Yeah, I'm not sure. I think for every writer there's a particular thrill in finding out stuff for yourself. Hopefully he'll now have his place in Australian history recorded. To be honest I hadn't even considered that.
One mission I did have, I feel like Australian surfing's cultural continuum had been severed in '56 or just after, when the surfers left the surf clubs. Surfers just disowned their elders and their previous culture and I don't think thats healthy for any culture, to have such a rift. I think a lot of the drug casualties we've seen since have been as a result of that. As I say in the book, surfers post-the surfer/clubbie split were like a bunch of kids at home with no grown ups. They could play with the matches and get into the liquor cabinet! You see that on the toll it took on people such as Kevin Brennan and Keith Paull right through to the present day. Modern surf culture suffered from not having a continuous lineage. American and Hawaiians kinda know who all their forebears are right back to the beginnings of the century. Whereas we've got Duke Kahanomoku coming out in 1914 and the US lifeguards in '56 and not much discussion of what happened in between.
'Australia's Century of Surf: How a big island at the bottom of the world became the greatest surfing nation on earth' is published by Random House