The Tricky History of the Channel Bottom
The general theory of channel bottoms is that they give grip and speed to a surfboard. The 'faces' of the channels give added surface to push against, and by removing bottom curve they create straight line drive.
Yet the history of channel bottoms is anything but fast and stable: it's a slippery history, and it weaves in unexpected directions.
When we embarked on this article we didn't set out to find who was first to make channel bottoms though we quickly found this issue was unavoidable. Curiously, and this was very much in line with our asymmterical article, we found a number of people stumbled on the idea while working independently from each other.
We've done our best to speak to everyone involved and hope we've done justice to their stories, however we wouldn't be surprised if new information tweaks the story you read below. History can be surprisingly fluid.
But perhaps most surprising is the ever-changing use of channel bottoms. What was a distinctly 70s design has evolved in harmony with the major developments to find it's place in contemporary surfboard design.
1960s
In 1965 Greg Noll carved two shallow grooves, one either side of the stringer, into his Semigun model and called it the 'Slot Bottom'. It's debatable whether they qualify as channels but Hawaiian great Ben Aipa has no hesitation. "That was the birth of the channel bottom," said Ben Aipa of Noll's slots. "The idea may have come from the past - maybe Simmons or Blake - but Greg was the first to include the slot as a design element in production boards."
Noll built Slot Bottoms for just two years, 1965 and '66, and only in select boards. Dale Velzy is another early shaper who some believe may have contoured the bottom of a board, yet Noll has the first known photos. After 1966 the idea disappeared for nigh on a decade before re-emerging in three different locations on Australia's East Coast at roughly the same time.

1970s
After settling in Kiama on the NSW South Coast, expat American Mike Davis set about getting the local reefs wired. "There's a wave there called Boneyards, a real mean wave at size, and I was looking to get barrelled there."
All the big wave boards of the day had long sleek pintails, but these designs weren't cutting it at Boneyards. "We'd get held up every time," says Davis. "I needed something wider to paddle into the waves earlier, yet wide-tailed boards would just skip out off the bottom."
In 1975 he was driving back into town after a session when Newton's apple fell. Davis spotted a ski boat outside of Bombo Beach and saw how it moved in the water. "I could ride a wider tail, a rounded pin, and drop channels into it for grip!"
"I raced to the factory and quickly shaped the same V bottom I always used, and then shaped concaves that got wider towards the tail like the Bonzas. But instead of the one concave on each side of the stringer I carved in three on each side and were deepest at the extremities."
Davis recalls the design working wonderfully. "The board penetrated early and it could drive off the bottom with grip. We dropped our big wave boards from 7'6" to 6'10"."
However, board size wasn't the only thing that dropped. "My production just about halved," said Davis of the increased labour to shape, glass, and sand the channels. "They resembled channels as we know them now," says Lee Middleton who frequently bought channel bottoms from Davis for his shop, Sunshine Surf Shop in Barwon Heads.
"The depth of the channels was an issue," explains Davis. "The crude fibreglass of the day wouldn't sit in the channels. It would be eighteen months or so before Midget imported a nice supple glass so we could market lots of them."
Yet even after suitable glass is sourced Mike Davis' channel bottoms fail to catch on, at least relative to what came afterwards. Geographic isolation may have contributed, though at the time Davis was supplying boards to 65 surfshops around the country. He also, ironically, shaped boards for Col Smith who would later be an integral figure in the development of channel bottoms.
Whatever the reason, Davis was a pioneer whose his name is conspicuously absent from the accepted history of channel bottoms.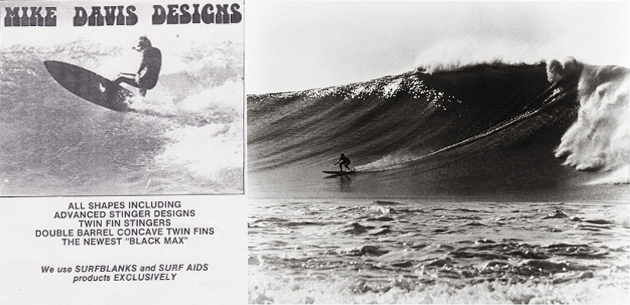 In the mid-70s, Erle Pedersen from Cairns and Jick Mebane from Hawaii trade ideas while living at Whale Beach on Sydney's far northern beaches. Before moving south, Pedersen created the 'Kewarra Jet Bottom', devised to maximise energy out of the weak waves that broke at Kewarra Beach neach near Cairns. The Jet Bottom is a beautiful arrangement of curved channels, which, says Pedersen, "busts all forms of water tension."

The October 1975 issue of Tracks runs a spoof article, 'U.S.O found in backyard' featuring a startled Terry Fitzgerald holding a futusristic surfboard. The Unidentified Surfing Object is one of Pedersen and Mebane's creations, while an accompanying photo shows four of their boards, one of them being a Kewarra Jet Bottom shaped in August 1975.
The Jet Bottom is unlike all other channel bottoms yet it shares the same purpose: to influence water flow under the board and increase performance. Pedersen's contributions are significant and don't end here.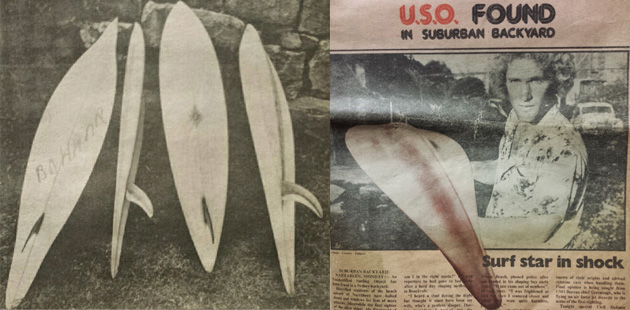 In 1975 an article appears in an American surf magazine titled 'Groove Ridge Theory'. Co-authored by Jim Richardson and Art Shafer, it details experiments using rubber ridges stuck to the bottom of a surfboard concluding that they improve lift and increase directional stability. The article is read by Jim Pollard who begins his own channel bottom experiments and the third and final sprout germinates.
Pollard, originally from Manly but living at Maroochydore when he begins his channel work, sands corrugations in a curved path so as to follow the board's outline. They're set in pairs either side of the stringer though some later examples have three. Each channel exits the rail at a flyer. Pollard coins the design a bee tail.
Pollard is noticed by Shane Stedman and the two set up Fluid Foils in the Shane factory at Brookvale. Jack Knight is one of the production shapers. At around the same time Pollard hooks up with a phalanx of hot young surfers from the Redhead/Newcastle area, among them are surfer and shaper Martin Littlewood, NSW state champion Steve Butterworth, and rising star Col Smith. Butterworth and Smith begin riding for Fluid Foils. In 1977 Pollard begins experimenting with deeper channels that curved out towards the rails at the rear of the board.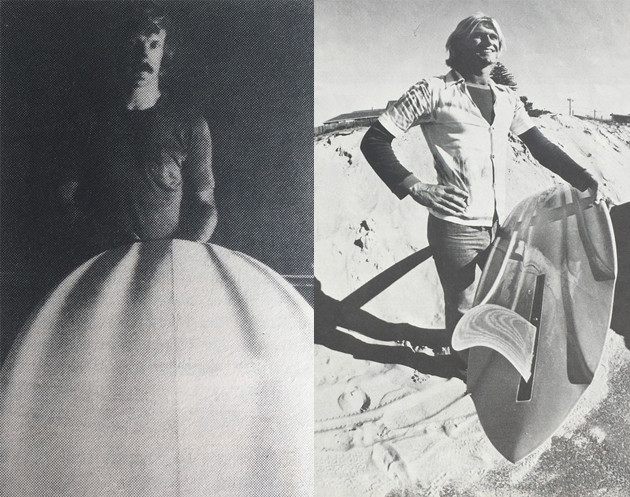 In late 1977 Col Smith flies to Hawaii with a four board quiver of Jim Pollard-shaped channel bottoms. Three of them have shallow channels that follow the rail line, the classic Pollard bee tails, the fourth is a flat bottom.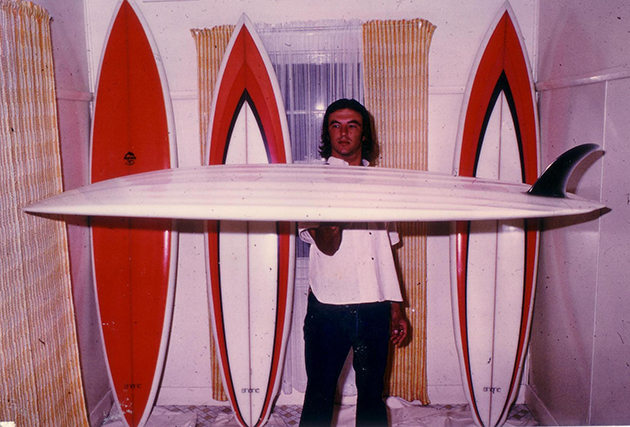 In November 1977 Smith emerges from relative obscurity to win the Pro Class Trials at Sunset Beach against an international draw. Two-time Pipe Master Rory Russell calls him the "most underrated surfer in the world". Upon his return Tracks runs a three page interview in their January 1978 issue. Speaking about the reaction his channel bottoms had in Hawaii, Smith has this exchange with editor Paul Holmes:
Paul Holmes: The locals don't usually go for way out designs?
Col Smith: No, they dont and it was the first time that they'd seen anything like them. Boy, did I get some funny looks. They were especially sceptical because I'd never been to Hawaii before. It only took a few surfs to show them that the boards do work though.
In the same article Holmes speaks to Jim Pollard:
Paul Holmes: There have been a few channel bottoms on the market, all have had different types of channels. What has made your boards the way they are?
Jim Pollard: I'm not going to say anything about anyone else channels. All I'll say is that I've spent $15,000 and five years research designing and working out the dynamics of waterflow to find out exactly how my boards go.
Why do you think there aren't more manufacturers making channels?
They're scared of them – exactly that. It could upset the status quo too much in my opinion. I'm something they dont want.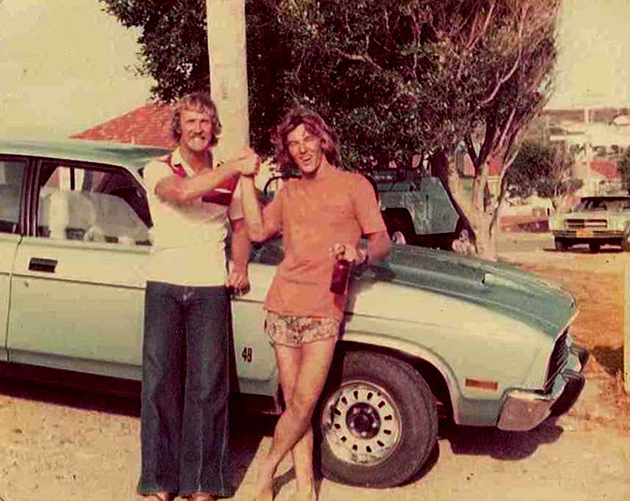 Following Col Smith's success - he backed up his win at the Pro Class Trials with a seventh in the Pipe Masters and another win in the Quiksilver Trials at Bells in '78 - a number of shapers began paying attention, among them were Martin Littlewood, Al Byrne, and Phil Myers. Also, Col Smith began shaping his own boards too. Each of them would evolve the channel bottom eventually putting their own spin on the design.
Martin Littlewood is widely credited as putting the first straight channels into a board. "Jim started it all," says Martin, "Let's make no mistake about that, but I thought the shallow grooves weren't very noticeable." Martin subsequently went and dug a few "trenches" into his board. "I put them in straight and deep - sometimes over half an inch deep at the exit", while he followed his own reasoning for straight channels: "The flow of water follows the board, not the outline."
"We weren't thinking too much about rocker then," says Littlewood. "It was all about grip and bite. Straightening the rocker came later on." As grip was the primary factor, Littlewood says it made sense to have the longest channel on the outside. "It's when the board's on rail that you need the grip."
In 1978 Col Smith left Fluid Foils, firstly to shape with Martin Littlewood, and later to shape with Phil Myers under the Free Flight label.
A disagreement between Littlewood and Smith - "Yeah it was a blue," chuckles Littlewood - led to Smith reversing the configuration to have the longest channel on the inside. "That was his way of distancing himself from me," says Littlewood.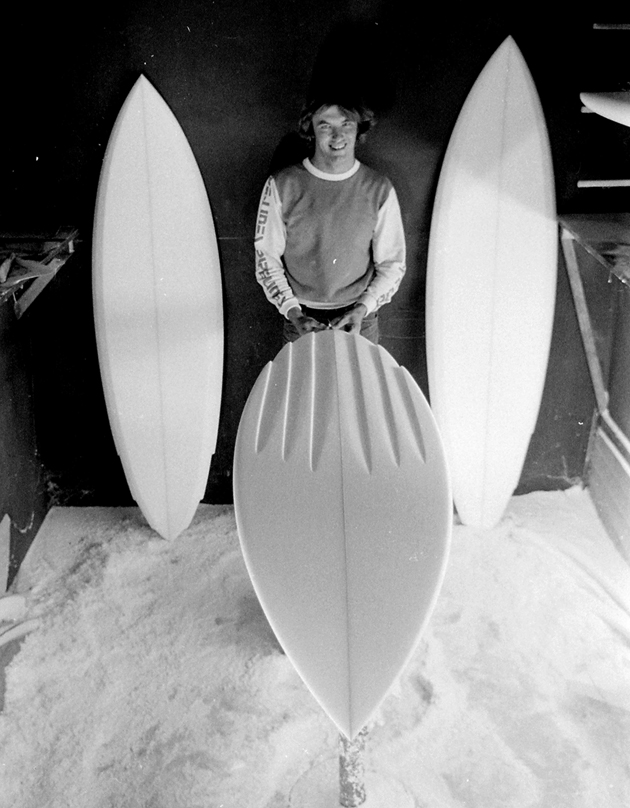 In late 1977 Al Byrne landed in Hawaii after three years in the New Zealand Air Force. Byrne told Damaged Goods Zine about the first time he saw a channel bottom:
"I was standing on the beach at Pipeline and Col Smith had just gone out and I'd never seen any surfing like it. He had this Jim Pollard curve channel, single fin. I watched until he came in and he had it sticking in the sand."
"I went walking up to him, "Fuck, can I have a look at that?" And he kinda looked at me sideways and goes, "Only if you don't tell anyone." He then went on to like third or fourth at the Pipe contest a few weeks later."
Byrne replicated what he saw on Smith's boards. Just before his death in 2013, Byrne told The Surfers Journal: "I made the mistake of making the channels too shallow. I was dissappointed and didn't know why. When we got back to Newcastle, this guy Martin Littlewood shaped one for me and really dug in the channels. Really deep. Littlewood is really the progenitor of all my channel bottoms because he was not scared to really carve them in, like a sculptor. He took the shallow Pollard concept and deepened the whole concept physically and philosophically. Then I took mine toward breaking the sound barrier."
Though Jim Pollard and Col Smith had some success, it was Byrne who popularised the channel bottom. He made visually striking boards, put them under the feet of the best surfers of the era, and honed his designs on the Gold Coast and Hawaii - two channel-friendly surf zones. On the Gold Coast, Byrne started shaping for Hot Stuff, where he'd stay until 1986 before going out on his own with Byrning Spears. Al Byrne's commitment to channel bottoms would never waver.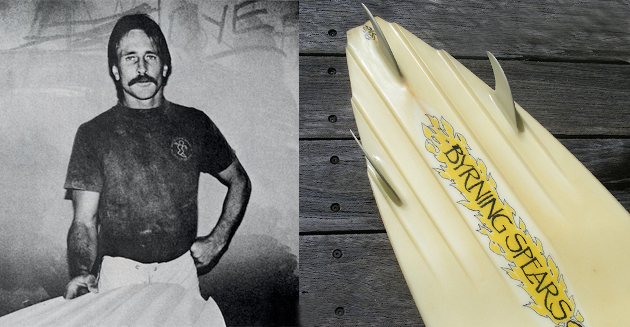 In the late-70s twin fins made a revival on the back of Mark Richards' success and shapers tried to fit channel design into the new shortboard template. Phil Byrne in Wollongong constructed the Clinker channel, sharp and deep channels that resembled clinker boat hulls where an overlapping series of planks form the structure. Byrne's clinker channels always had the inside channels fading out before the tail so as not to grip too much and hence diminish the twin fins best quality.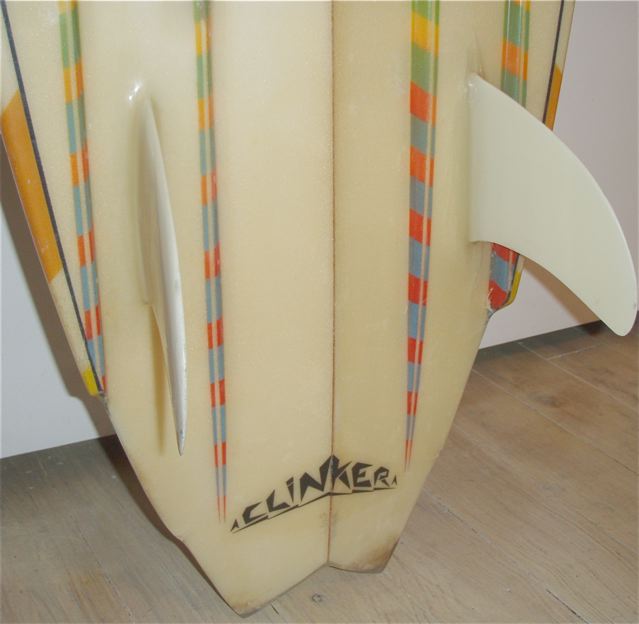 Up on the Gold Coast, Allan Byrne's influence was spreading with more channel bottoms appearing. Especially notable were those from the Pipedream factory shaped by Murray Bourton and a young Dominic Wybrow. Like Phil Byrne, Wybrow found a way to mix the skatey feeling of the twin with the grip of channels.
1980s
In 1981 Simon Anderson invented the Thruster which put a halt on clinker channels. Al Byrne and Murray Bourton persisted, but elsewhere shapers found three fins provided enough bite. Too much grip and too many fins made for a locked in feeling. Down in Wollongong, Phil Byrne adapted his channel designs to three fins. He, like other shapers, had discovered the key to the channel bottom's speed: the channels straightened the rocker providing a quicker route to the tail of the board. Because of this many shapers were reluctant to do away with channels altogether. The solution was belly channels, an idea that appears to have been grasped by multiple shapers around the same time.
Belly channels were usually set in four, two each side of the stringer, and they were shallower and shorter than those shaped in the late-70s.
In 1983 Tom Curren surfed the Australian leg of the tour on a Channel Islands Thruster with four belly channels, while Tom Carroll also rode Byrne belly channels throughout 1983, the year he won his first world title. The channel design had subsequently evolved with board design, from single fins to twins to Thrusters, finding its rightful place at each stage. And with the two best surfers of the early-80s riding belly channels many others followed suit.

Down in Ballina at the Free Flight factory, Phil Myers was looking for a work around solution; something that'd keep him at the cutting edge of design - meaning it would have to include three fins - yet allow him to drop his beloved channels in.
Myers found it with the Hydro Channel, a regulation channel bottom with a drop out step to loosen up the tail. The step could be located behind or in front of the fins, yet either way it avoided the locked in feeling. In the early eighties Michael and Tommy Peterson visited the Free Flight factory and the seed was sown for a design that'd be ridden to worldwide acclaim a decade later.

In 1984 Erle Pedersen moved up to the Gold Coast working out of the Pipedream factory. While there he shapes a mix of toned down Jet Bottoms and conventional channel bottoms. He also teaches the craft of channel shaping to a young Darren Handley. "He was as green as grass," says Pedersen. "But he was always gonna go far."
At the time of writing Mick Fanning had just won the J'Bay Open riding a modern channel bottom shaped by Darren Handley. "I'm no stranger to channel bottoms," said Darren flatly.
1990s
During the late-80s belly channels faded out due to the increasing use of concaves. Concaves were conceptually similar to channels, they straighten the stringer line to provide fast transport of water beneath the board, but concaves don't have the inherent production issues of channels. The late 80s and early 90s mark the beginning of surfboard mass production, a matter that can't be seen as inseperable from channels falling out of favour.
However, arguably the dominant reason for channel bottoms waning are competing design. In 1990 Maurcie Cole begins working with Tom Curren, a partnership that would lead to the Reverse Vee, and then in 1992 Greg Webber's concave and rocker experiments begin bearing fruit. Both designs largely made channels redundant.
But that's not to say they dissappeared. Allan Byrne was succesfully pursuing his line of thought with Byrning Spears channel bottoms appearing in a great many Hawaiian quivers, and Phil Myers kept the fire burning at Free Flight.
Yet the greatest channel design of the 90s was the Tommy Peterson Fireball Fish, which was an 'evolution' of Phil Myers Hydro Channel. Tom Curren rode a 5'7" Fireball in huge waves at Bawa, Indonesia, in 1994. That one session, which appeared in many magazines and Rip Curl's original Search video, helped ignite the Fish revolution. The Fireball, however, wasn't a Fish, it was a Thruster and had channels and a step very similar to Phil Myers' Hydro Channel.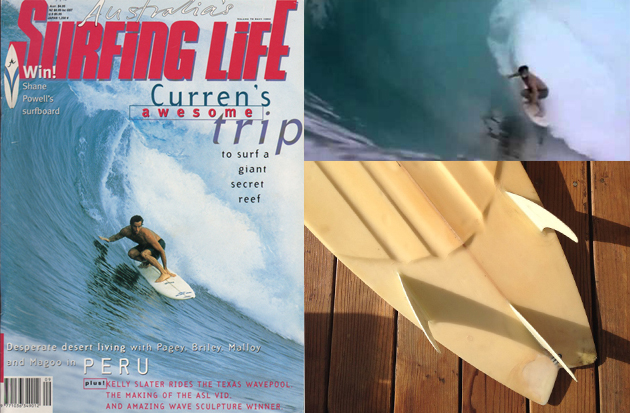 2000s
The ripples from the Fish resurrection kicked off by Curren, with further help from Andrew Kidman and Derek Hynd, eventually reach the mainstream shore. High performance board lengths shrink through the first decade of the new millennium causing shapers to look at their craft anew.
Daniel Thomson, a second generation surfer and shaper from Lennox Head, begins making boards unlike any other on the market. Tomo takes the 'shorter board revolution' to new lengths - at least metaphorically, some of his boards are meant to be ridden 6 - 8 inches shorter than exisiting boards.
To make up for the reduced rail line, Tomo puts channels into some models. "The channel bottoms on these give it control so you can ride it in bigger waves as well," says Tomo. "You're never going to slide the tail out if you have that edge on the rails because it acts as a fin itself and lets you drive off of it."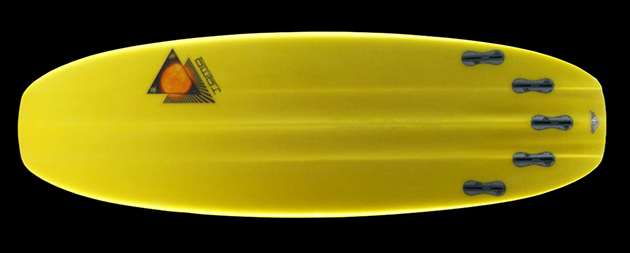 While Tomo finds new uses for channels in contemporary shortboards, a number of labels continue refining channel designs. Chief among them are Phil Myers at Free Flight with his Col Smith Channel Design and Al Byrne at Byrning Spears. When Byrne passed away in 2013 he passed the baton - not to mention templates and tools - to his son Jamie Byrne and business partner Dale Wilson.
They're not the only pioneers still shaping channel bottoms. Jack Knight, who shaped alongside Jim Pollard at Fluid Foils, still fills orders for channel bottoms. These days Knight curves the end of his channels out towards the tail and his reasoning also sums up why channel bottoms have endured for forty years.
"The straight channels are like a race car," says Knight. "But when the channels curve outwards they're always working with you. They're graceful and they're smooth."
In other words, they're adaptable.
*****
Thanks to:
Phil Myers at Free Flight Surfboards
Mike Davis
Erle Pedersen at Surf 1770
Dale Wilson at Byrning Spears
Martin Littlewood at Delta Designs
Geoff Moore at Crow's Garage
Jack Knight Surfboards
Phil Byrne at Byrne Surfboards
Lee Middleton
John Boorer
Steve Core
Richard Palmer