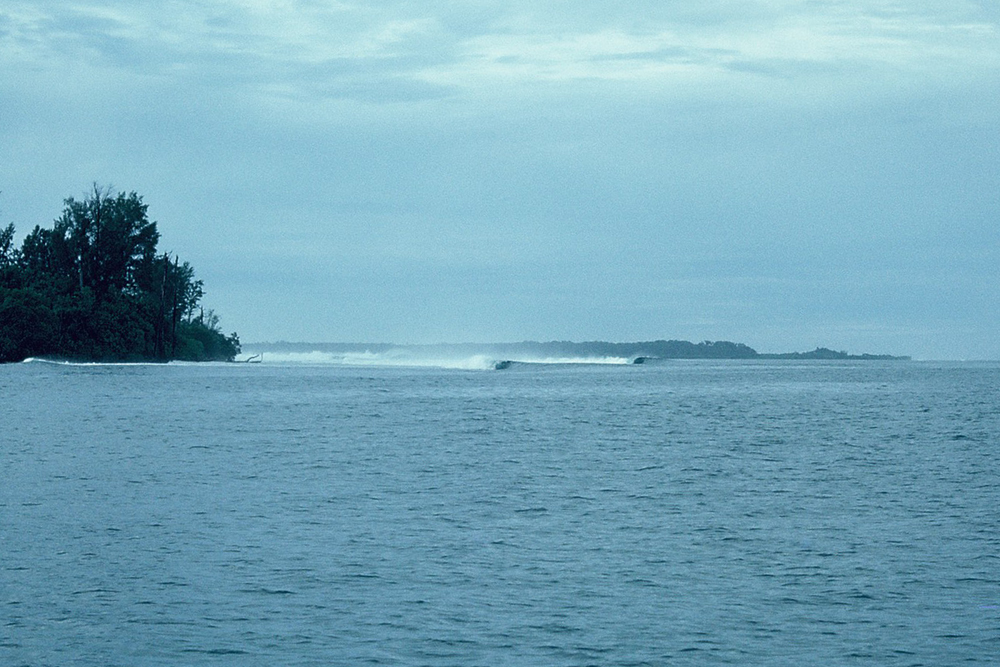 In May 1980 three Sydney surfers - cousins Chris Goodnow and Tony Fitzpatrick, and their friend Scott Wakefield - became arguably the first surfers to visit the Mentawais. Among their discoveries was a wave that's now considered one of the world's best, Macaronis.
The boys always referred to the wave by its local name, Pasongan, and they were entranced by its mechanical perfection. Chris Goodnow called it "the best left he's ever seen" and twice the mesmerised trio set up camp near the point during that season. In between they ventured by small boat along the Mentawai coast, finding some waves that later became famous and barely missing others.
At the time they were treated as oddities; largely welcomed by their Mentawai hosts but constantly quizzed about their intentions. In one diary entry Goodnow says their guide, "seems to be coming to the conclusion that we're lunatics." In 1980 the only outsiders in the Mentawais were a logging company clearfelling the forests and a lone German pastor.
Goodnow, Fitzpatrick, and Wakefield were in the Mentawais more than ten years before Lance Knight discovered the waves on the southern tip of Sipora that bear his name - Lances Left and Lances Right/HTs. If that gap in time isn't enough to illustrate how isolated this new frontier was, then the following article written by Chris Goodnow may help.
Comprised of diary entries and contemporary observations it details how hard Goodnow searched for his version of "surfer's gold" - unridden tropical perfection. Twice he attempted to reach Nias and failed, in between was an aborted mission to Panaitan Island, his last resort being a trip into Grajagan. Despite surfing G'Land alone for five days, Goodnow's trip there was tinged with disappointment. G'Land was already "on the map". What he sought could only be found in uncharted territory.
Two years later he found it wrapping around the southern flank of Teluk Pasongan, and that trip will be documented in Part 2 of Finding Macaronis. Even in 1980 Goodnow realised the value of this wave resource and forewarned the Pasongan locals: "We told our host that his village was sitting on a gold mine and that one day people from around the world would want to come ride its waves, but whether or not that was a good thing would depend upon how it could be managed."
In Part 3 Chris Goodnow examines how Pasongan has fared in the 35 years since he Scott Wakefield and Tony Fitzpatrick first sailed into the bay, contrasting it against other models of surf tourism: Pasta Point in the Maldives, and Cloudbreak in Fiji, both waves Goodnow has surfed. //STU NETTLE