Generally clean but no major swell until Wednesday
Western Australia Surf Forecast by Craig Brokensha (issued Friday 1st January)
Best Days: Sunday and Monday morning's swell magnets in the South West, Wednesday morning, Thursday morning
Recap
Happy New Year! Windy 4-5ft sets across exposed breaks yesterday morning in the South West, better but smaller in more protected spots, while Perth continued to offer 1-2ft sets.
Today the wind was straighter offshore across the South West with a smaller easing 3-4ft of swell and tiny 1ft waves to the north.
This weekend and next week (Jan 2 – 8)
Tomorrow morning should be clean and not as windy across the South West with a moderate to fresh E'ly offshore but small swell. A new SW groundswell is due to build through the day though, coming in at 3-4ft into the afternoon as sea breezes kick in. Perth will fail to see any real size at all.
Sunday morning will be small again and in the 2-3ft range across swell magnets in the South West with SE to E/SE winds.
Later in the day and more so Monday we should see a fresh pulse of SW groundswell generated by a small front drifting east-southeast through our swell window. A kick late in the day to 3-4ft is expected again across the South West, with tiny waves around Perth, holding a similar size Monday morning.
SE winds look to persist in the South West, with early N/NE winds around Perth.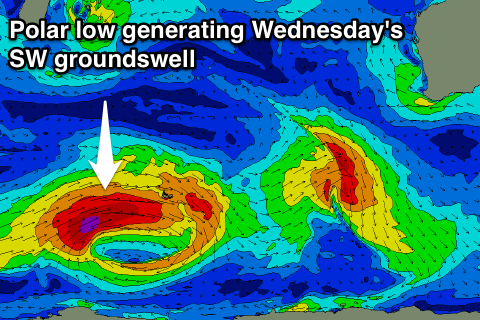 Tuesday will be smaller and with morning SE winds across the South West.
Of greater importance is the long-range SW groundswell that's due to arrive later Tuesday and peak Wednesday across the state. This has been upgraded a little, with the polar low generating it due to produce a fetch of weakening severe-gale W/SW winds while moving in from west of Heard Island.
The low will weaken as it becomes closer to us, leaving a good but inconsistent SW groundswell for us Wednesday.
Margs should see solid 5-6ft sets across exposed spots with 1ft to occasionally 2ft sets around Perth under morning E/SE offshores, but we'll confirm this on Monday.
Longer term some secondary good SW groundswell energy is on the cards for next weekend but more on this Monday. Have a great weekend!