A return to winter but with a great swell
Victorian Surf Forecast by Craig Brokensha (issued Monday 30th January)
Best Days: Selected spots tomorrow morning, Wednesday morning Surf Coast, Thursday, Friday and Saturday protected spots for the experienced
Features of the Forecast (tl;dr)
Moderate sized mid-period SW swell building Mon
Swell holding Tue with light-mod S winds, possibly variable across some spots through the AM
Inconsistent SW groundswell for later Tue, and Wed AM, then easing
Moderate sized mid-period SW swell Wed PM and Thu
Moderate W/NW winds Wed AM ahead of a gusty S/SW change later AM
Strengthening NW winds on Thu
Large SW groundswell building Fri with strong W/NW tending W/SW winds
Easing swell Sat with strong W/NW tending W/SW-SW winds
Smaller Sun with early W/NW tending S winds mid-late AM
Recap
A drop in swell from Friday but nice and clean across the Surf Coast Saturday with small 2ft sets, clean to the east and with slower 3ft leftovers.
Sunday was lumpy with early variable winds ahead of shallow S'ly change but no significant swell.
Today we've got our moderate sized mid-period SW swell on the build with bumpy but workable 3ft sets on the Surf Coast and 4-5ft sets to the east. We should see the swell continuing to build and reaching 4ft and 6ft respectively but with persistent onshore winds.
This week and weekend (Jan 31 – Feb 5)
This afternoon's increase in size should hold tomorrow morning, followed up by less consistent SW groundswell energy into the late afternoon and Wednesday morning.
The source of these swells was a strong polar low forming in the Heard Island region last week, with the system racing ahead of the swell it was generating while producing an additional fetch of strong to gale-force W/SW winds under the country on Friday/Saturday.
The mid-period energy is from the fetch racing ahead and under the country, with the groundswell originating from the early stages of the low.
Sets to 4ft should continue on the Surf Coast magnets with 6ft surf to the east, holding Wednesday morning but less consistent.
Follow up pulses of moderate sized mid-period swell are due into Wednesday afternoon and Thursday followed by a larger groundswell on Friday. We'll discuss this below, but first let's look at the local winds for the coming days.
A lingering S'ly breeze is due tomorrow across all locations, though only light to moderate for most of the day. There's a chance for periods of lighter, more variable winds across select locations through the morning so keep an eye on the local wind observations for cues.
Wednesday looks great on the Surf Coast with a W/NW offshore before a trough brings a gusty S/SW change late morning, so get out before then.
Coming back to the reinforcing mid-period swell and larger groundswell for later week, and as touched on in Friday's update, a broad polar frontal progression following the system linked to the current building swell has been generating a great, elongated fetch of strong W-W/SW winds.
This will then be followed by a stronger polar low projecting up towards us later week, generating a fetch of gale to severe-gale winds on top an active sea state.
The initial zonal fetch should produce moderate sized surf on Thursday to 3-4ft on the Surf Coast and 5-6ft to the east, while Friday's swell looks to build to 6ft+ on the Surf Coast and 8-10ft to the east.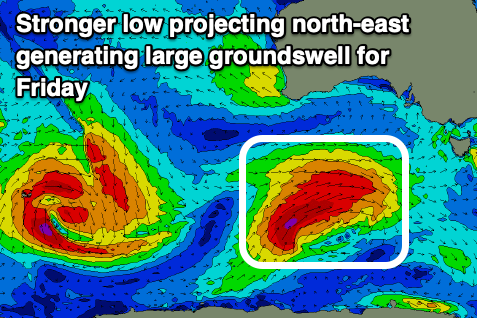 Now, winds which were a little unsure last week are now coming into alignment with the approaching low bringing great, strengthening NW winds on Thursday and then strong W/NW tending W/SW winds on Friday.
This will favour protected spots, with Saturday also seeing W/NW tending W/SW-SW winds thanks to the low projecting up high and across us, stalling slightly through Friday/Saturday.
The low will push east on Sunday leaving early W/NW winds that will shift S/SW mid-late morning and then S into the afternoon.
A reinforcing SW groundswell is expected on Monday but with S/SE winds as a high moves in from the west. More on this Wednesday though.