Monday, 9 September 2019
Good long-period swells this week
Victoria Forecast by Craig Brokensha (issued Monday 9th September)
Best Days: Surf Coast tomorrow morning, Wednesday, Thursday morning, Friday Surf Coast
Recap
Bumpy though OK waves for keen surfers on the Surf Coast early Saturday much better Sunday with a mix of swells around the 3ft range and cleaner conditions. Locations to the east stayed poor all weekend.
Today a strong front moving through has kicked up a messy and onshore mid-period S/SW swell.
Today's Forecaster Notes are brought to you by Rip Curl
This week and weekend (Sep 10 - 15)
The frontal system linked to today's messy and onshore conditions will move off to the east, with a drop in mid-period S/SW swell through tomorrow. There'll also be a very inconsistent long-period W/SW groundswell generated in the southern Indian Ocean last week, with inconsistent sets to 3ft on the Surf Coast swell magnets most of the day, 4-5ft to the east.
A morning W/NW breeze will favour the Surf Coast, shifting SW-S/SW late morning.
Looking at our stronger, long-period SW groundswell for Wednesday, and the low linked to this swell is currently south of WA, generating a tight fetch of severe-gale to storm-force W'ly winds in our south-western swell window (picked up well by satellite as shown).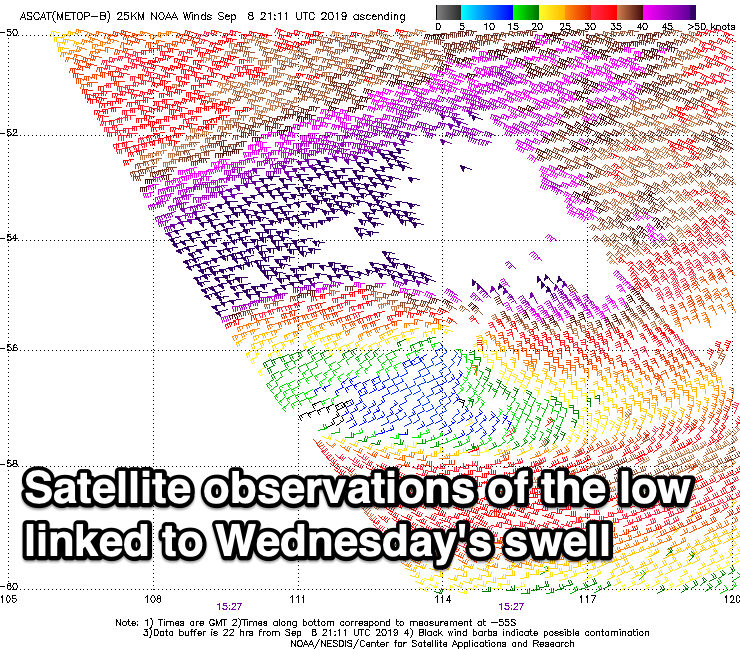 The low will maintain a severe-gale fetch while tracking east before passing under Tasmania tomorrow morning out of our swell window.
The swell is due to arrive Wednesday morning and peak through the day to a strong and good 4-5ft on the Surf Coast and 6-8ft to the east under N/NW tending N winds on the Surf Coast and N/NW tending N/NE breezes to the east.
A secondary tight low forming in a similar position to where the current low is, will generate another fetch of severe-gale to storm-force W/NW winds through our swell window, but dip more east-southeast.
The low will be a touch bigger in scope likely resulting in similar sized waves to Wednesday's swell. The groundswell is due to arrive early Thursday morning and peak through the day to 4-5ft on the Surf Coast and 6ft to maybe 8ft to the east.
Winds will be favourable during the morning again with a N/NW offshore (possibly N/NE early east of Melbourne), giving into a mid-afternoon SW change.
A weak front linked to Thursday's change will produce an smaller mid-period SW swell for Friday afternoon and Saturday morning as the SW groundswell eases.
Sets to 3-4ft should persist Friday on the Surf Coast, 5-6ft to the east with a W/NW breeze, possible variable into the afternoon.
The models still diverge on a possible strong cold front moving through Friday afternoon, bringing a moderate sized increase in groundswell for Saturday. ECMF has the front weaker and swell also smaller and weaker (more idea come Wednesday), while behind this it looks like we'll see storms dipping east-southeast through our swell window, blocked by a strong high, and the models converge on this.
This looks to result in fun swells early-mid next week but with winds from the south-eastern quadrant. More on this and the weekend's outlook on Wednesday though.