Thursday, 22 November 2018
XL NW groundswell inbound
Hawaii North Shore, Micronesia and PNG forecast by Craig Brokensha (issued on Thursday 22nd November)
Best Days: Every day over the coming period
This week and next (Nov 23 - 30)
Hawaii: We've got small easing levels of NW swell on the coast today and the surf will become tiny to flat into the end of the week, remaining so until Sunday.
On Sunday we'll see two seperate NW groundswells breaking, the first, smallest and lesser period for the morning ahead of a larger longer-period increase into the afternoon.
The first pulse is being generated by a fetch of W/NW gales being projected towards us, south-east of the Kamchatka Peninsula, reaching a point halfway between Hawaii before weakening.
The swell may be seen in dark Saturday but will peak Sunday morning to 6ft+ on the North Shore magnets.
At the core of this first fetch projecting towards the islands will be a stronger but tighter fetch of severe-gale to storm-force NW winds in our far swell window.
This should produce a less consistent but larger and stronger increase in NW groundswell, building to the 8ft range on the sets later afternoon ahead of a peak overnight.
Before this swell gets a chance to ease though we'll see an XL long-period NW groundswell building rapidly through Monday.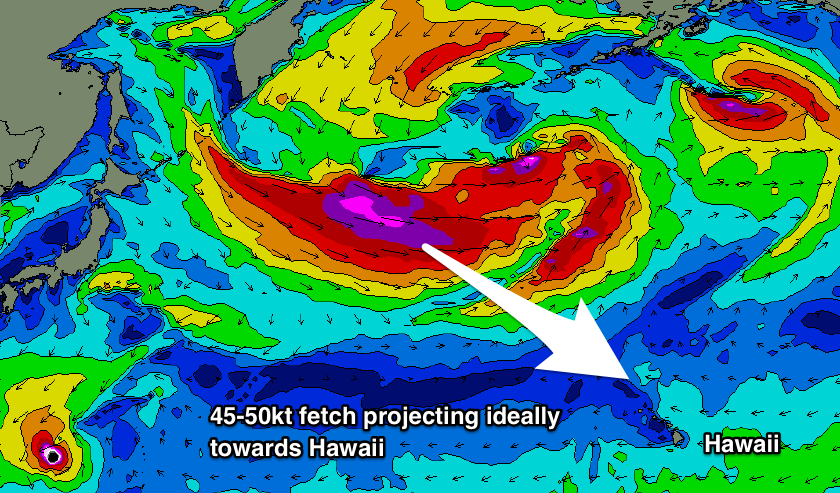 The swell will be generated by a secondary vigorous low forming just east of Japan and south of the Kamchatka Peninsula, with a broad and elongated fetch of severe-gale W/NW winds and embedded storm-force winds due to slowly move east-southeast before the storm consolidates and continues projecting severe-gale to storm-force W/NW winds down towards Hawaii in a 'captured fetch' like motion.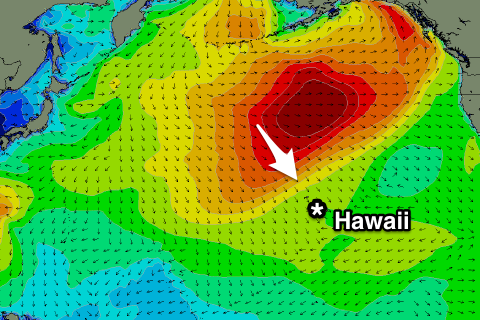 This will result in faster than normal wave growth and the generation of a large long-period XL groundswell.
The swell is due to arrive Monday morning and build rapidly, kicking to 20ft+ across the outer reefs and big wave breaks before dark, peaking overnight and then ease off slowly from 15-18ft Tuesday.
Conditions are looking excellent with weak E/SE trades, offshore in the mornings and weak sea breezey into the afternoons.
There were possibly a couple of follow up fronts and swells on the cards but they've been weakened, so we're expected to see the swell dropping further into the middle and end of the week.
North Shore Forecast Graph
North Shore WAMs
Micronesia: We've got a mix of fun easing S/SW tending SW swell and N'ly groundswells breaking around the island, with both due to become smaller into tomorrow and the weekend.
The SW swell from Typhoon Man-Yi will swing more west and this should provide a few options across the western side of the island tomorrow and Saturday before fading.
Looking at the N'ly groundswell due off the vigorous storm pushing through the north-west Pacific, it's looking a touch smaller across Micronesia with the storm being aimed more east than south.
Still we should see sets building to 4-5ft later Tuesday, easing slowly from a similar size on Wednesday with weak trades.
Beyond this smaller pulses of N/NE swell are on the cards for late week and next weekend, but more on this Tuesday.
Palikir Pass Forecast Graph
Palikir Pass WAMs
Papua New Guinea: As per last update there's nothing significant for us until mid-late next week when the inconsistent N'ly groundswell starts to filter down.
Winds will also swing onshore out of the W/NW from Sunday as a small tropical depression moves into the region. This looks to weaken as the N'ly groundswell builds Wednesday, with sets to 2-3ft due by late in the day, easing from a similar size Thursday but very very inconsistent.
Longer term small levels of N'ly swell look to persist but there's nothing significance at this stage.