Return to normality across the North Shore
Hawaii North Shore, Micronesia and PNG forecast by Craig Brokensha (issued at Tuesday 28th November)
Best Days: North Shore most days this period until Sunday, Micronesia protected reefs the coming three days, PNG from Thursday
This week and next (Nov 28 – Dec 8)
Hawaii: Last week we saw an XXL N'ly swell impacting the North Shore and other islands, peaking through Thursday evening and then easing back through the weekend ahead of a new N'ly groundswell building through later Sunday, peaking this morning.
This swell is now on the ease, but will be slowed into tomorrow morning by a reinforcing N'ly swell pulse, with sets to 3-5ft across exposed breaks to the north swell, easing into the afternoon.
We then see our attention swing to our north-western swell window, with a couple of large back to back N/NW groundswells due to arrive through this week.
The first, which is due to peak Wednesday morning has been generated by an initial deep and intense low forming off the Aleutian Islands over the weekend, aiming a fetch of storm to hurricane-force W'ly winds on the edge of our northern swell window.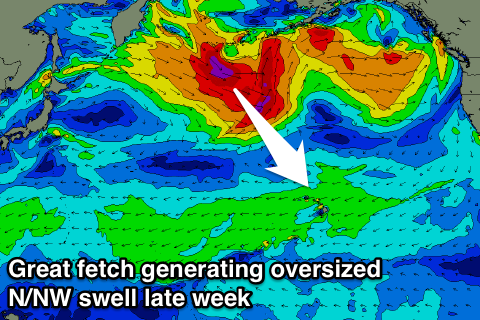 This has generated a large long-period N/NW groundswell for us that should show on dark Tuesday and peak Wednesday morning to 8ft on the sets, easing back through the day.
Right on the back of this initial tight low, a much broader and better aligned storm has developed, with a great fetch of severe-gale to storm-force W/NW-NW winds expected to be projected through our north-western swell window, followed by a secondary intensification of severe-gale W/NW winds.
A larger N/NW groundswell should be produced for Thursday, building to an oversized 10-12ft+, peaking overnight and easing from 10ft+ Friday morning, much more pronounced Saturday.
Winds over this period will be gusty out of the E/NE Wednesday and Thursday, slightly weaker Friday morning before strengthening again into the afternoon and weekend.
Looking into next week and we'll see a mix of E/NE trade-swell from strengthening E/NE trades off us through Sunday and Monday, mixed in with some small background NW groundswell for Monday/Tuesday but only to 4-6ft or so.
Longer term a large broad low with smaller embedded lows is expected to develop north-west of us later next week, generating pulses of NW-N/NW groundswell, but more on this next update.
North Shore Forecast Graph
North Shore WAMs
Micronesia: We should be starting to see some building NE trade-swell due to a strengthening fetch of trades directly north-east of us. The swell should peak through tomorrow and Thursday to 6ft or so across exposed breaks, easing off into the end of the week as the trades slowly weaken.
Unfortunately spots seeing the most size will be onshore, with a possible relaxation indicated last update through Thursday and Friday not really on the cards any more. We should however see winds back off temporarily Saturday morning, but this will also be when the swell bottoms out.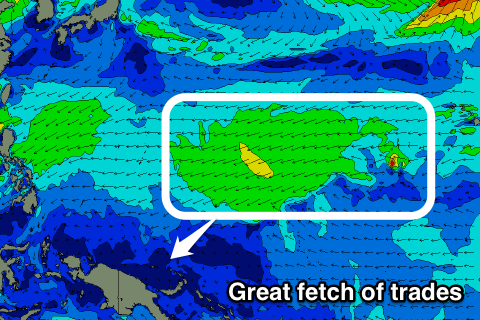 Longer term a more elongated fetch of E/NE trades are expected to develop east of us through the weekend, persisting into early next week and possibly even strengthening further.
This will see the NE trade-swell building again from Sunday, further into next week though with average E/NE winds.
No decent N'ly groundswell is due through this period, which is unfortunate as this is the main swell we rely on for the passes.
Palikir Pass Forecast Graph
Palikir Pass WAMs
Papua New Guinea: We've got some fun swell on the cards for the coming week as the trade-swell initially filters down from Micronesia, building Thursday and likely reaching 4-5ft across exposed breaks through Friday before tailing off slowly into the weekend.
Winds should be variable Wednesday and Thursday before increasing slightly from the W/SW Friday and Saturday, fresher from the W/NW Sunday and Monday with a trough in the region, before relaxing.
The swell should start kicking up again from Tuesday, persisting for at least another week with lighter winds from the W/NW. We'll have a closer look at this Thursday.