Large, easing northwest swells; another pulse for the weekend
Hawaii North Shore forecast by Guy Dixon (issued Thursday 3rd March)
Best Days: Thursday, Friday and Sunday.
This week (Thursday 3rd - Friday 4th) and weekend (Saturday 5th - Sunday 6th):
Overnight, the forecast XXL pulse peaked and has been providing solid 20ft+ sets throughout today, slowly easing as the day has progressed.
From here on in, we are looking at a gradual easing trend off the back of today's large peak. Thursday is likely to fade from the 15-18ft range, furthermore on Friday, dropping from around 8ft+.
Within this period, winds should become more manageable in comparison to what we have seen throughout today. A light/moderate northeasterly breeze looks to ease and tend east/northeasterly on Thursday morning allowing for more workable conditions, before swinging back to the northeast, remaining light.
Friday is looking at a similar wind outlook, light from the east/northeast early, tending more onshore and increasing slightly early than the day prior.
Moving into the weekend, we are due to see a fresh pulse generated by a smaller and less intense fetch originating from the Kamchatka Peninsula region. West/northwesterly fetches of 35-40kts during today look to fill in during Saturday, with exposed breaks building to around 8ft+ by the late afternoon although inconsistent.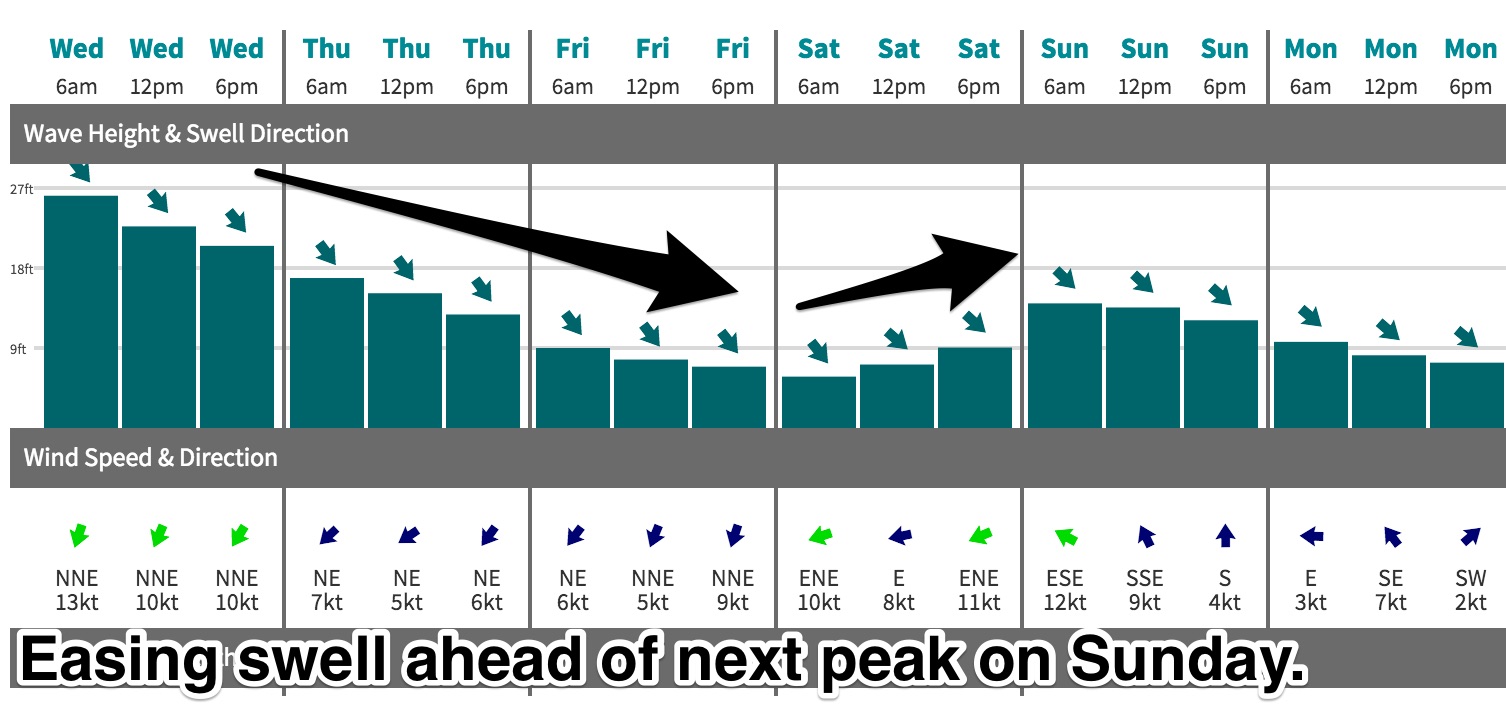 Sunday is expected to see the peak of this pulse, with sets in the 12-15ft range, potentially larger at deep water reefs, although remaining infrequent.
A light/moderate east/northeasterly trade flow looks to be well established by Saturday morning, tending more northeasterly into the afternoon. If they strengthen too much, conditions could deteriorate a little. By Sunday, this trade flow is expected to swing more east/southeasterly allowing for clean conditions along the North Shore.
Next Week (Monday 7th onward):
A gradual easing trend should ensue off the back of this pulse throughout the early stages of next week, with the next significant swell front due to fill in on Wednesday. Early indications suggest that this swell will be fairly benign, but enough to keep our feet in the wax.