Wednesday, 6 December 2017
Plenty of swell, but tricky winds ahead
South-east Queensland and Northern NSW Surf Forecast by Ben Matson (issued Wednesday 6th December)
Best Days: Thurs AM: small clean beachies. Fri AM: possible early window of NW winds at some locations, with a strong tho' inco E'ly swell. Sat: easing E'ly swell, early window of light winds north from Byron (longest on the Sunny Coast).
Recap: Building E/NE swells punched a little higher than forecast, around 3-5ft across most coasts on Tuesday before easing slowly through today. Light to moderate SW tending SE winds across most coasts generally favoured the points, though the afternoon saw a late W'ly across the Sunshine Coast that did very good things across the beachies. Today early light winds swung into a moderate NE sea breeze by mid-late morning, where it's held for most of the day. The only exception is the Gold Coast, which is seeing moderate W/NW winds and thus super clean conditions across the beachies (though the southern points don't really like this wind).
Today's Forecaster Notes are brought to you by Rip Curl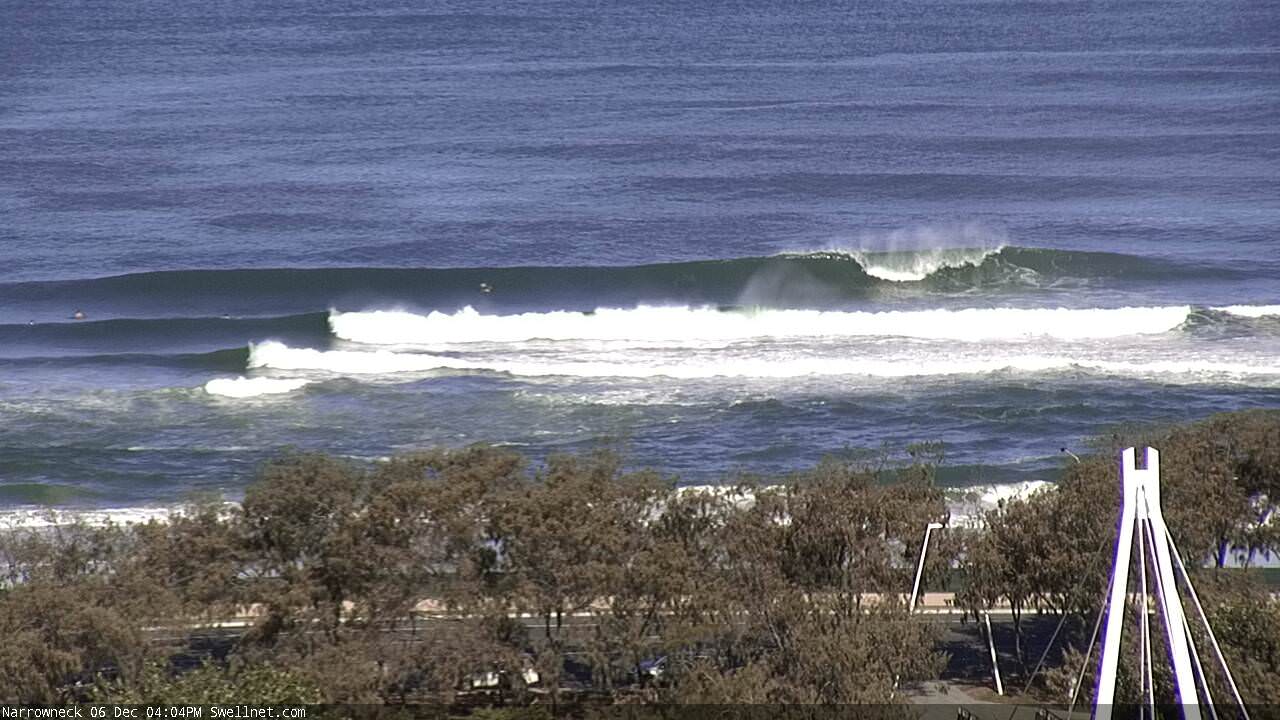 Pumping Narrowneck this afternoon
This week (Dec 7th - 8th)
Although the current E/NE swell is on the way out, we have a brand new E'ly swell due to fill in throughout Thursday, ahead of a peak Friday morning. This swell was generated by a pair off E'ly dips north of New Zealand early in the week.
As such the swell isn't a problem for the next few days. But, local winds are.
Thursday morning will offer a reasonable period of W/SW winds and clean conditions, however we'll be at a temporary low point in the size department, around 2-3ft across open beaches. Freshening NE sea breezes into the afternoon will add chop and bump to the new E'ly swell as it starts to fill in.
Friday sees an unfortunate timing for the new swell to reach a peak, because an approaching front across Southern NSW will freshen northerly winds about most coasts. The very early session should see a brief period of NW winds about some regions (more likely in the north) but it won't last long, and there's likely to be a slight lingering wobble from Thursday afternoon's NE'er too.
The only exception here is the Lower Mid North Coast which may experience a period of light variable winds into the afternoon thanks to the arrival of a pre-frontal trough, ahead of a possible S/SW wind change late afternoon or early evening. Everywhere north from Coffs is expected to remain under a northerly flow until sunset though.
As for size, we should see anywhere between 3ft and occasionally 5ft across open beaches by early Friday, with slightly smaller size running down the points. Because of the distant source, the size distribution should be relatively similar across all coasts however set waves will be much less consistent than what we've seen during this most recent swell, which was generated much closer to the coast.
So in short, aim for the early session both days as the afternoons are looking pretty dicey on the surface.
This weekend (Dec 9th - 10th)
A gusty S'ly change will extend across most of Northern NSW in the early hours of Saturday morning, reaching the border around 7-9am and then pushing into the Sunny Coast a few hours later.
As such, apart from a brief window of light winds ahead of the change at dawn (and really only confined to Far Northern NSW and SE Qld), we're looking at bumpy conditions across the open beaches and smooth waves across the southern points.
Friday's E'ly swell will ease back into the 3ft range at most open beaches for Saturday morning, with inconsistent sets and smaller surf running down the points. A further decrease is then expected into Sunday.
The southerly change won't have much strength or length to its trailing fetch, but we should see some small SE windswell develop across exposed coasts. But under the accompanying breeze it won't be worthwhile.
Sunday will see a slow moderation of the SE fetch (though a building ridge through the Coral Sea will keep it somewhat in place). However, winds should throttle right back across the Mid North Coast.
As for other swell sources, we have some small south swell on the way for Northern NSW both days (unrelated to the change) but the models have pulled back the potential so I'm doubtful for much more than inconsistent 2ft+ sets at exposed south swell magnets south of Byron Bay. Certainly not worth working around, anyway.
Let's take a closer look on Friday to eyeball any possible windows of opportunity.
Next week (Dec 11th onwards)
We've seen an abrupt change in the long range guidance since Monday, with the Southern Ocean storm track shunting out of our swell window.
Next week's potential surf looks like it'll be reliant on the trades, which are expected to firm up north and north-east of New Zealand later this week. A second region through the Lower Coral Sea developing early next week should also supply small E/SE swell to SE Qld and Far Northern NSW.
We won't see a lot of size or strength from these patterns but they should stop the open beaches from becoming tiny. Northern NSW should also see some small southerly swell at south swell magnets south of Byron on Monday, with inconsistent 2-3ft+ sets on offer.
It's also worth mentioning that the last few model runs have had a tropical cyclone near the southern Solomons at the end of each run. The latest guidance has started to strength this (modelled) system quite a bit, but what often happens in this scenarios is that we see it linger at the 'end' of the model run for quite some time, until it's resolved and locked in with a firm formation timeline.
As such, we need to keep an eye on this system but I suspect it won't be until this weekend or early next week where it starts to become a more of a sure bet for surf potential.
Probably the biggest benefit from this progged development is the likelihood that it'll broaden and strengthen the Southern Coral Sea trades through the middle of next week, which should slowly lift mid-range E'ly swells about SE Qld and Far Northern NSW through the middle to latter part of next week and the following weekend.
As is usually the case, any possible cyclone swell beyond this - which is always a remote possibility at best anyway - will simply be an added bonus.