An Aussie surfer in the Kingdom of Norway
Wednesday, 11 January 2017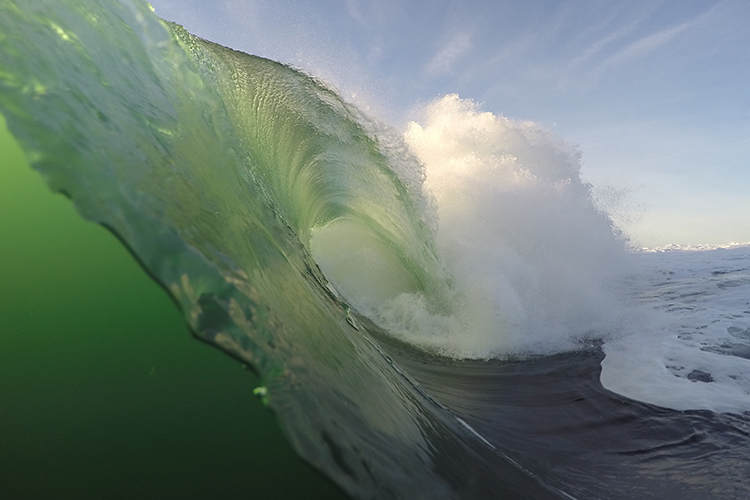 It's no controversy to say the internet is a hive of chicanery and bluster. The online mechanics make it all too easy for the less principled among us to lie, cheat, and steal other people's photos.
Thus my antennae were twitching when I opened an email titled 'Some waves from Norway' that looked suspiciously like the south coast of NSW.
"I swear it's not, brother. It's Norway," came the staunch reply when I confronted the sender.
And after an online to and fro my suspicions were allayed. So allow me to introduce Aussie expat, bodyboarder, and Norsk skive jeger, Chris King.
Swellnet: Where are you from originally?
Chris King: I'm originally from O'Sullivans Beach on the Mid Coast, South Australia. All my friends live in Port Lincoln so I was often over there surfing. Some big heavy slabs around that area. I've been bodyboarding for nearly thirty years now.
What took you to Norway?
I met a girl in Australia who was from Norway. She asked if I wanted to come for a holiday there, so I did. Eight years later and two kids and I'm still here! I brought my board with me but never really expected the surf to be good.
The first few years were great, getting some OK waves, then the novelty wore off due to some very long winters. They have two seasons in Norway, a green winter and a white winter.
What region do you mostly concentrate on?
The main break for people around Oslo is Saltstein, which is two hours south of Oslo. It can be very fickle in the summer so autumn, winter, and spring is the best time.
Winter can be very cold, down to -15°. This winter has been pretty mild hovering around +5° to -5° and water temp is about 6°. Generally there will be a big storm roll through and then one day of waves after it. Swell period is very short - just 6 to 7 seconds - so the swell doesn't last long.
The best setup is a low sitting out in the North Sea.
How often do the waves there break?
In winter there's usually a cycle once a week.
Can you liken the waves to anywhere else?
This wave, known as 'The Icebox', comes from very deep water into shallow, so it's a short heavy slab. I'd probably compare it to a very short version of Shark Island. I saw some photos of this wave a few years ago and began hunting. After many hours on Google Earth, hiking trails, and many dead end roads I found it.
There is one main guy that surfs it and he surfs it well: Joel 'The Gatekeeper' Stevenson has been surfing it for years and kept it well under wraps. There's only a handful of people that know about it and have surfed it but it's such a hassle to get to that no one bothers. I usually surf solo then get in after for some water shots.
When you sent the shots to me I doubted they were from Norway. Do you often get people scoffing at the likelihood of such good waves in Norway?
These photos have caused a lot of interest, both good and bad. Even the locals want to know the location.
What's the surf crew in Norway like?
Surfing is still a very young sport in Norway. There is just a handful of guys that are ripping and half of them are Aussie. There's a really good vibe in the water, everyone is super friendly and welcoming. Surf central in Norway is probably Hoddevika at Stad or the Lofoten Islands. Anne Lerfald is a surfer mom at Hoddevika and Lapoint Surf Camps have houses at both locations.
Non-surf question! Have you read any Knausgaard yet?
No, I haven't read Knausgaard's books but I've heard they are great. If you're looking for a good read from Norway try 'Boys of Telemark' or 'Max Manus'.