Corona Open J-Bay - early forecast
Friday, 7 July 2017
South Africa's been having a rough trot of late. The Western Cape region which includes Cape Town is in the grips of severe drought, the worst in more than a century with dams holding less than 10% of its useable water.
Severe restrictions have been put in place regarding household water use, while last month wildfires ripped through the coastal town of Knysna half way between Cape Town and Jeffreys Bay.
But as for surf potential, things are looking up with a couple of large swells forecast through the waiting period of the Corona Open J-Bay
Up till now, fun swells have been impacting the South African coast, providing great waves for those arriving early, with Mick Fanning getting into tune a couple of days ago.
The waiting period kicks off next Wednesday, and a large SW groundswell is due to provide great surf for the pros to warm up in on Monday and Tuesday.
The swell will be replaced by a mid-period S/SW swell through the first day of competition. The front generating this swell will project nicely through J-Bay's swell window, with sets expected to build to 3ft into Wednesday afternoon, peaking Thursday morning to 3-4ft.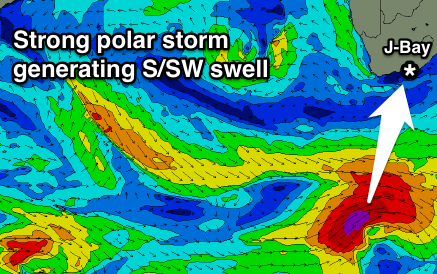 Later in the week a stronger polar low is forecast to develop, generating severe-gale to storm-force winds through J-Bay's southern swell window (pictured right), which is ideal. This would produce a large S/SW groundswell, arriving Friday afternoon and building to 5-6ft.
Following this there is plenty more activity showing in the forecast window, but we'll provide running updates and further articles over the coming week or two.