Swell pans out across the Pacific
Thursday, 18 May 2017
If you watch how swells are produced around the world you'll notice patterns forming.
Storms and swells usually develop in similar regions, season after season, year after year. Whether they're linked to climate drivers, the arrangement of the continents, or the general storm track around the globe, swells arrive from reliable directions at certain times of the year.
However, sometimes less common synoptic setups occur, and it's these rarer setups that pique the interest of forecasters.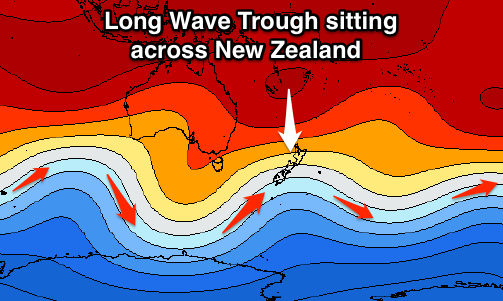 One such weather pattern is starting to develop south of New Zealand.
The Long Wave Trough which influences the placement and intensity of the westerly storm track usually strengthens either side of New Zealand. When it's to the west, the Australian East Coast and Fiji receive southerly swell energy passing up through the Tasman Sea, and when it's to the east, Tahiti and the Pacific Islands come under direct fire.
What we'll see over the coming 48 hours though is a node of the Long Wave Trough strengthening right over New Zealand, moving slowly east through the weekend.
Under this setup, we'll see a vigorous polar low generating swell fanning out from below New Zealand, splitting both west and east into the Tasman Sea and Pacific Ocean concurrently.
A broad fetch of 35-45kt southerly winds will initially be projected up through Australia's swell window before tending more south-southwest and into Tahiti's swell window.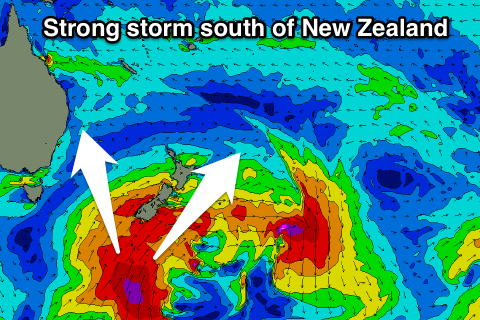 The result will be a great long-period groundswell hitting the Australian East Coast (arriving across Tasmania Sunday afternoon) and peaking further north early next week. The Solomon Islands and Papua New Guinea should see the swell arriving mid-week while Fiji will actually be shadowed by New Zealand in this instance (though seeing solid surf from a strong front just before the low forms).
Tahiti will see a large and powerful south-west groundswell arriving mid-week, building through Tuesday and peaking Wednesday in the 8-10ft+ range. Conditions look excellent with east-northeast offshores due at the peak of the swell. Tonga and Samoa will also see large surf through Tuesday and Wednesday next week, with the swell eventually filtering up to Hawaii's southern shores, Mexico and California.
New Zealand will also receive large surf across it's east and west coasts as well as swell as snow across most of its peaks. With the amount of wind though, the best waves will be found in more protected spots.