Margaret River Drug Aware Pro - early forecast
Tuesday, 21 March 2017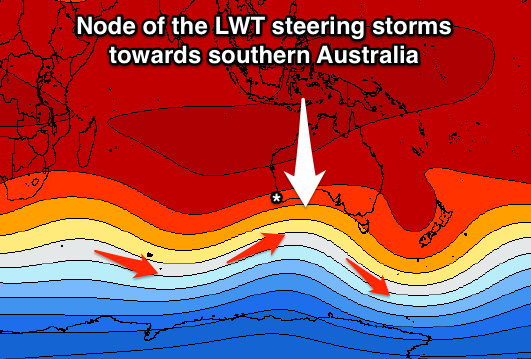 Well, that's one down and two more to go for the Aussie leg of the Championship Tour.
Despite a dire early forecast, the Tasman and Coral Seas rallied together to produce great waves for the Quiksilver Pro, culminating in a fairy tale outcome for the Big O and Steph Gilmore.
Our attention now shifts to the other side of the country, specifically the South West corner of Western Australia.
The Margaret River Drug Aware Pro waiting period kicks off next Wednesday and while there's been back to back XL swells within the last week, the Southern and Indian Oceans haven't fired all their bullets just yet.
In fact, we're heading into an active period of swell activity across southern Australia as a strong node of the Long Wave Trough (LWT) moves in from the west later this week. The Long Wave Trough dictates the Southern Ocean storm track and intensity, and what we'll see is an initial strong low develop over the weekend (generating swell for Sunday/Monday), followed by a more significant polar frontal progression directed up towards the Great Australian Bight.
It's this secondary progression that organisers will be keeping a close eye on. The system will exhibit winds in the storm-force range, weakening slightly as it projects north-east through Margaret River's southern swell window.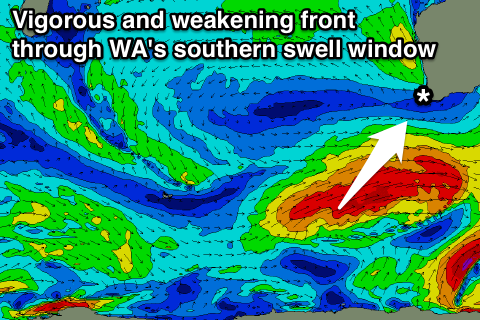 The result will be a large, long-period S/SW groundswell, arriving overnight Tuesday, peaking Wednesday - the first day of the waiting period - around 8ft across Main Break, with the odd bigger bomb.
The swell will ease off slowly through Thursday and Friday, with smaller surf expected through the middle of the waiting period as the LWT moves east under the continent.
A positive outcome of the LWT moving east is that a strong ridge of high pressure will slowly move in from the west, producing offshore E/SE winds each morning from Wednesday (giving way to afternoon sea breezes).
The weekend may see winds swing more NE favouring The Box, but the swell is looking on the smaller side of things at this early stage.
Later in the waiting period we may see another significant S/SW groundswell impacting the West Australian coast, but we'll continue to provide running updates in the comments section below.
Margaret River 16 Day Forecast
Margaret River WAMs
Margaret River Surfcam