Quiksilver Pro Forecast Update
Thursday, 16 March 2017
While it's not as epic as last week, the waves are pretty bloody good across the Gold Coast this morning with a moderate easterly swell and an overnight southerly wind shift.
Our current easterly swell has been generated by a near-stationary high pressure system in the Tasman Sea being squeezed by a broad coastal trough. The combination is aiming strong east-northeast winds towards the East Coast of Australia.
This trough moved offshore overnight, taking the torrential rain with it, but also grooming consistent lines of east swell along the Gold Coast's sand bottom points.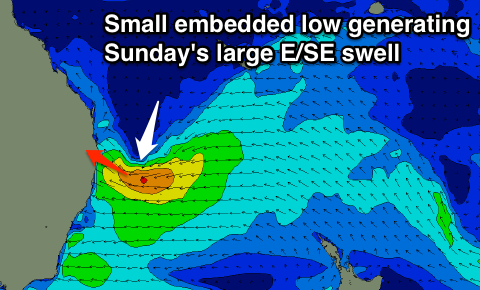 With the trough moving offshore, the east-northeast fetch generating the swell is retreating slowly to the east, away from us, meaning the swell should ease back slightly from 3-4ft tomorrow (Friday) morning.
Fortunately, a small embedded low in the trough between Northern NSW and New Caledonia is forecast to intensify throughout Friday, retrograding slowly west-southwest while deepening further into Saturday. This will generate an increase in easterly swell through Saturday to 3-4ft ahead of a bigger east-southeast swell Sunday around 4-6ft.
Local conditions are looking excellent Friday and Saturday as the embedded low pushes closer to us bringing offshore south-west to south-east breezes. Come Sunday, however, when the larger swell fills in, the low will track north of the Gold Coast, swinging the wind direction around to the east or possibly even the east-northeast, which is onshore at Snapper Rocks. That said, there may be enough size for Kirra (3-5ft), which handles easterly winds better than Snapper Rocks.
Moving into next week and moderate to large levels of easterly swell should continue through the first half of the week. They'll ease slowly through the middle of the week but the wind outlook remains tricky with a lingering east-northeast flow likely at first. However, we may see periods of variable winds at times.
Later in the week (second to last day of the waiting period) a southerly change is due, but the swell will have eased back to a slow 2ft to maybe 3ft, smaller again Saturday mixed in with a moderate sized south-southeast swell.
We'll continue to monitor the dynamic and complex weather system off our coast in the comments below.